Khao Lak - Everything to do for families with kids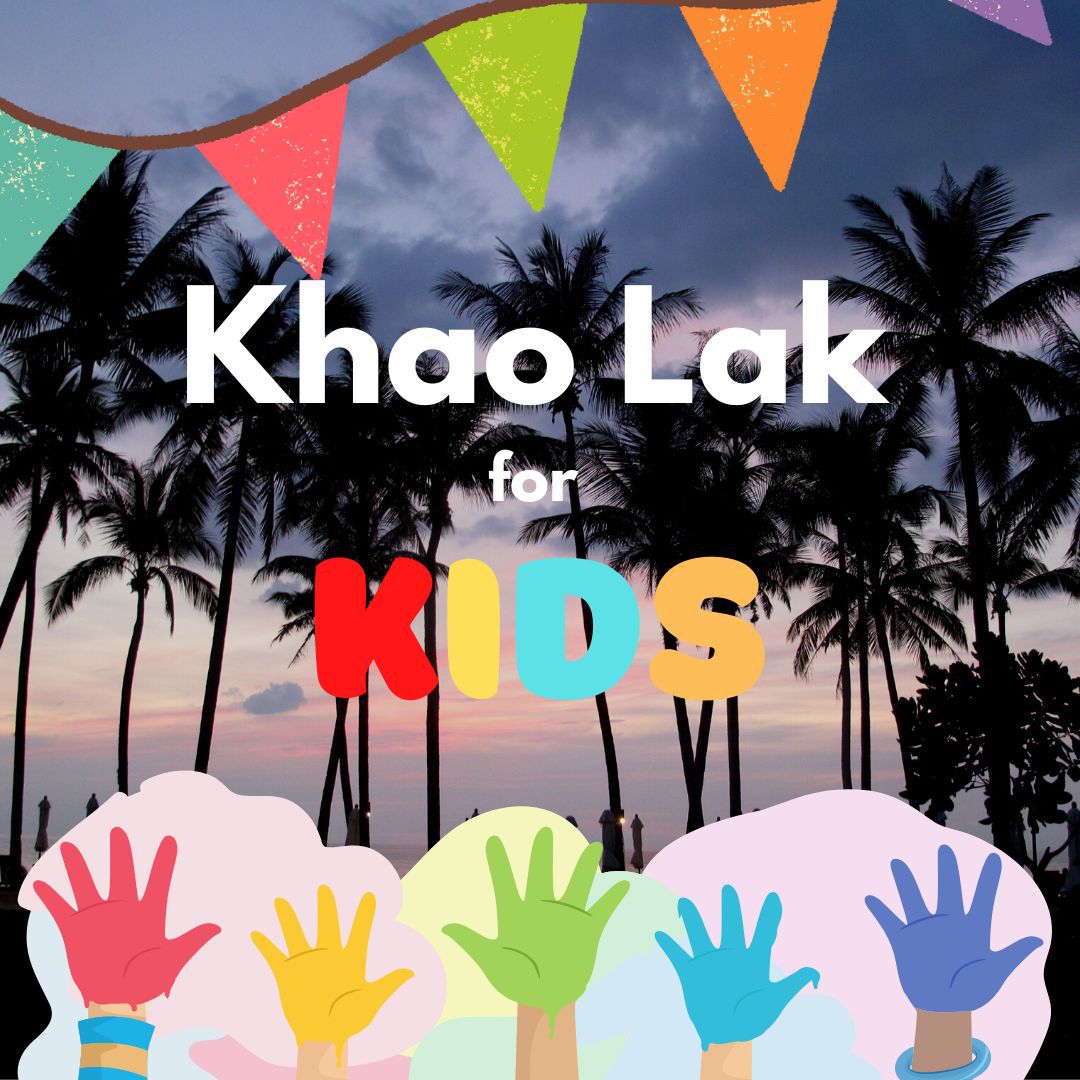 Children are naturally curious and adventurous, so take advantage of that during the holidays and don't just stay at the pool or beach! It's fun to try new things, like a bit of culture and local food with your kids.
The Thais are incredibly child-friendly, you can see that wherever you go. It is not uncommon for someone to drop your table at the restaurant and help entertain the little ones so that their parents can eat, while older children are also shown the kitchen. Local families quickly find partners to play with on the beach, pool or waterfall.
And as for things to do with kids in Thailand and Khao Lak... there's so much. For the uninitiated I have a few suggestions:
(Pictures all of us and with permission from our junior - still censored here, because one shouldn't just put children's pictures on the internet - even though he's grown up by now).
1. Build the biggest sand castle on the beach
Khao Lak has more than 30 km of sandy beaches, which also run gently into the sea. Enough space so there is no crowd on the beach and it is ideal for bathing/swimming - at least in the dry season. In the rainy season the sea has more waves and can be quite turbulent. The sand here is great for sandcastles - important: don't forget sunscreen!
You can find beach chairs/umbrellas under the trees and behind the beach line. They are owned by restaurants and hotels - the beach is public territory.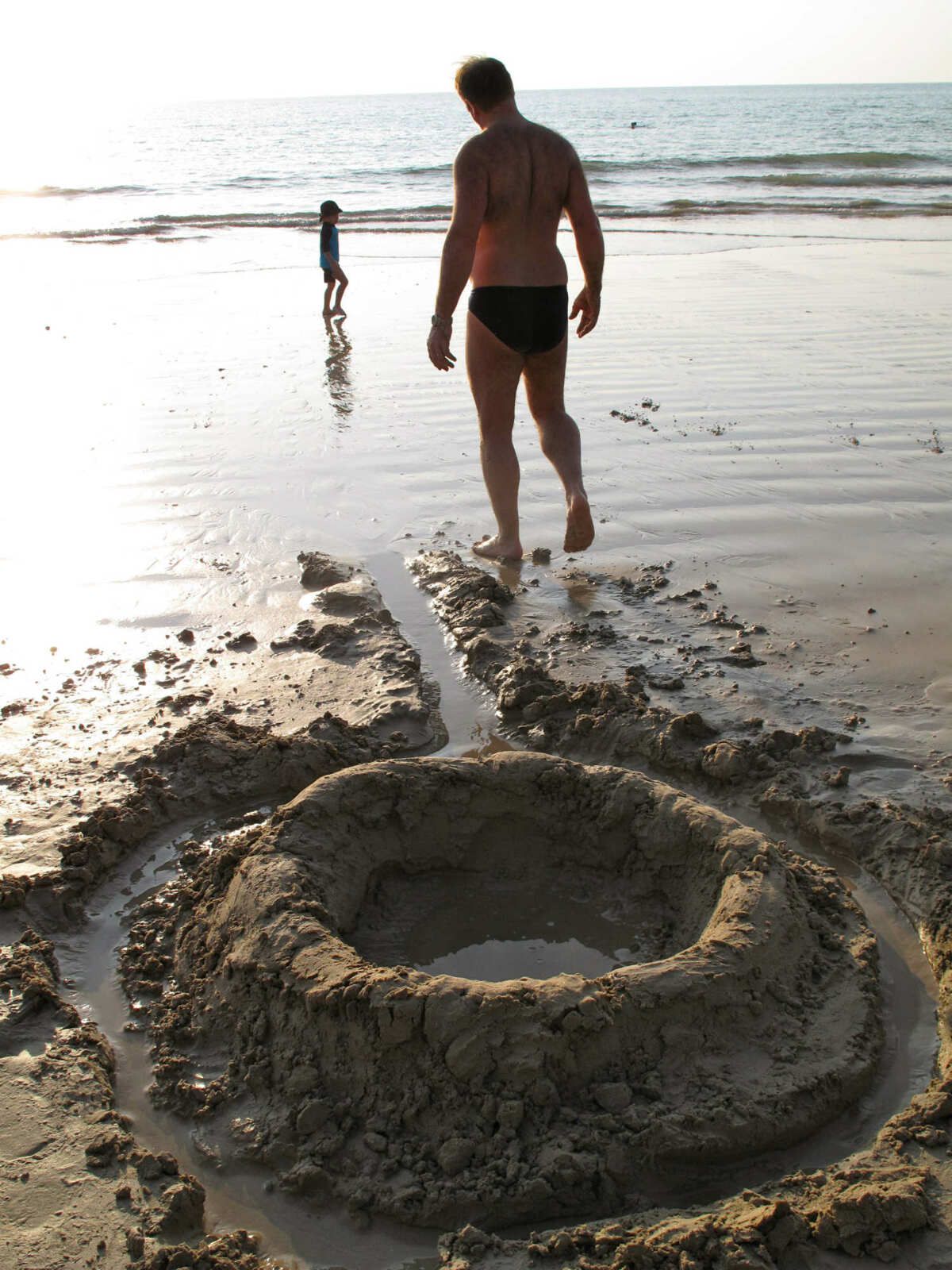 2. Have a bath under the waterfall
There are many waterfalls around Khao Lak, which (while not huge or very impressive - especially in the dry season), are good for cooling off and splashing about. You often meet Thai families with children there who do exactly the same thing.
Worth a visit are Sai Rung Waterfall in northern Khao Lak and Ton Pling Waterfall south of the hill, both easily accessible. You have to walk a little longer from the parking lot to the Chong Fa waterfall behind Bang Niang, but then you can expect fewer people there.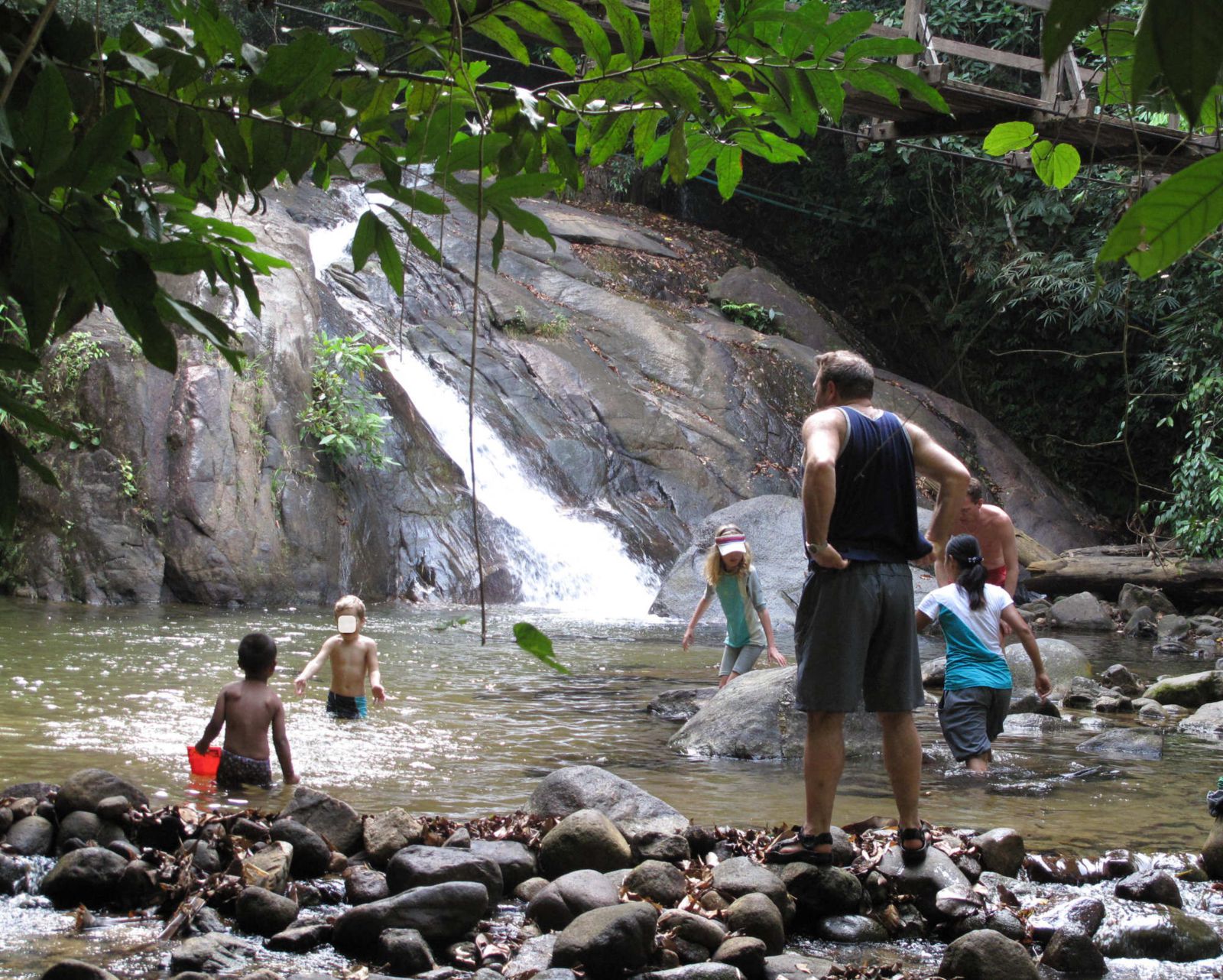 Image: bathing with locals at Ton Pling Waterfall
A little further away is the Sa Manora Forest Park near Phang Nga, which offers several limestone steps over which you can also slide. Good for a day out or a stop over visit while there.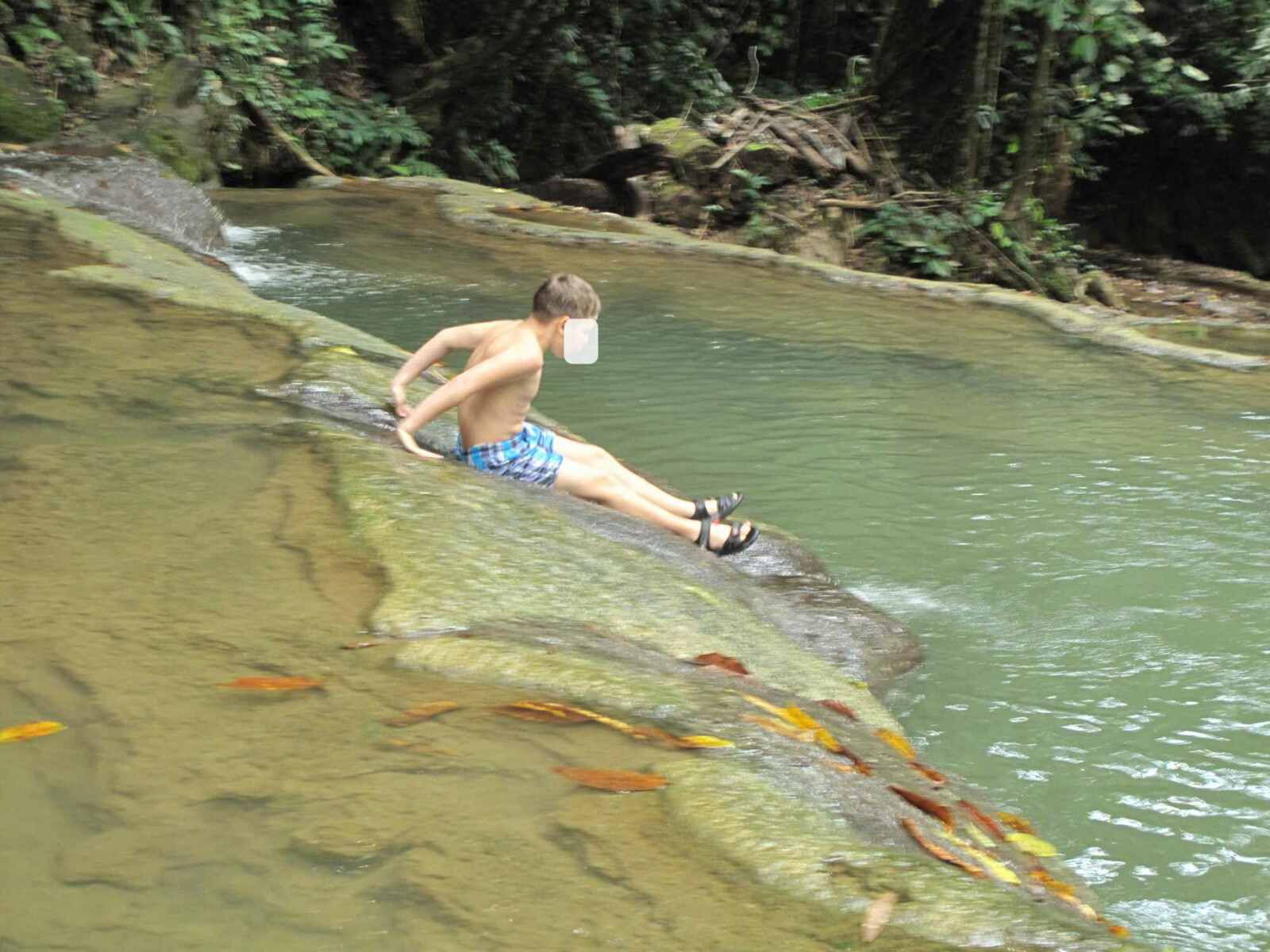 Or take a trip to the "wild north" to the highest waterfall in the area in the Sri Phang Nga National Park.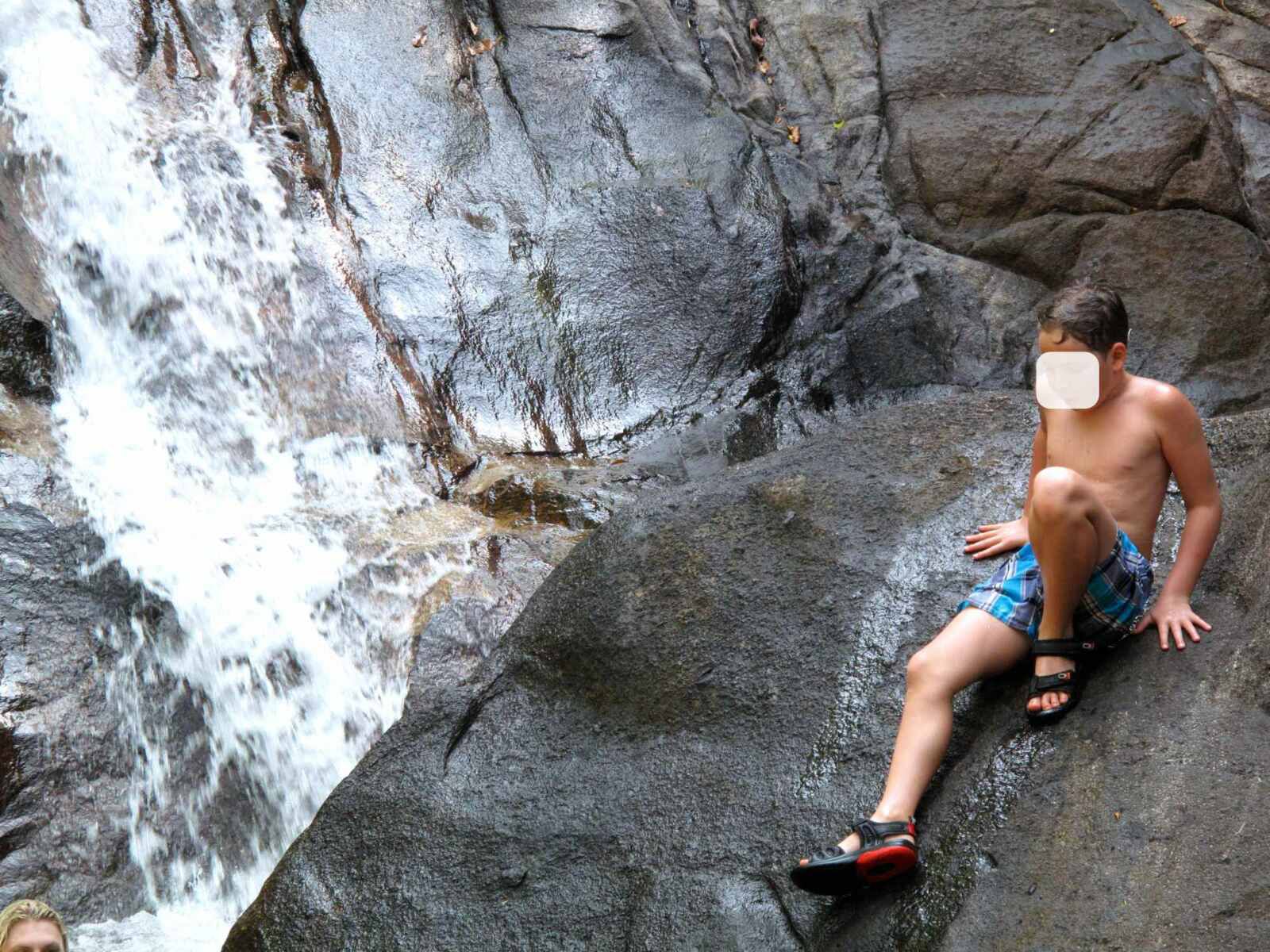 3. Elephant feeding / washing / bathing (riding optional)
In Thailand you can hardly avoid the national animal - nor should you! Elephants are fascinating for big and small and an encounter is always an experience. It doesn't have to be riding - many elephant camps offer feeding and possibly bathing. Recommended at Khao Lak: Elephant Home at Memories Beach or Eco Khao Lak tours. Phang Nga Elephant Park is also good. If you have more time (and money) book a tour at Elephant Hills in Khao Sok National Park, which always includes contact with elephants).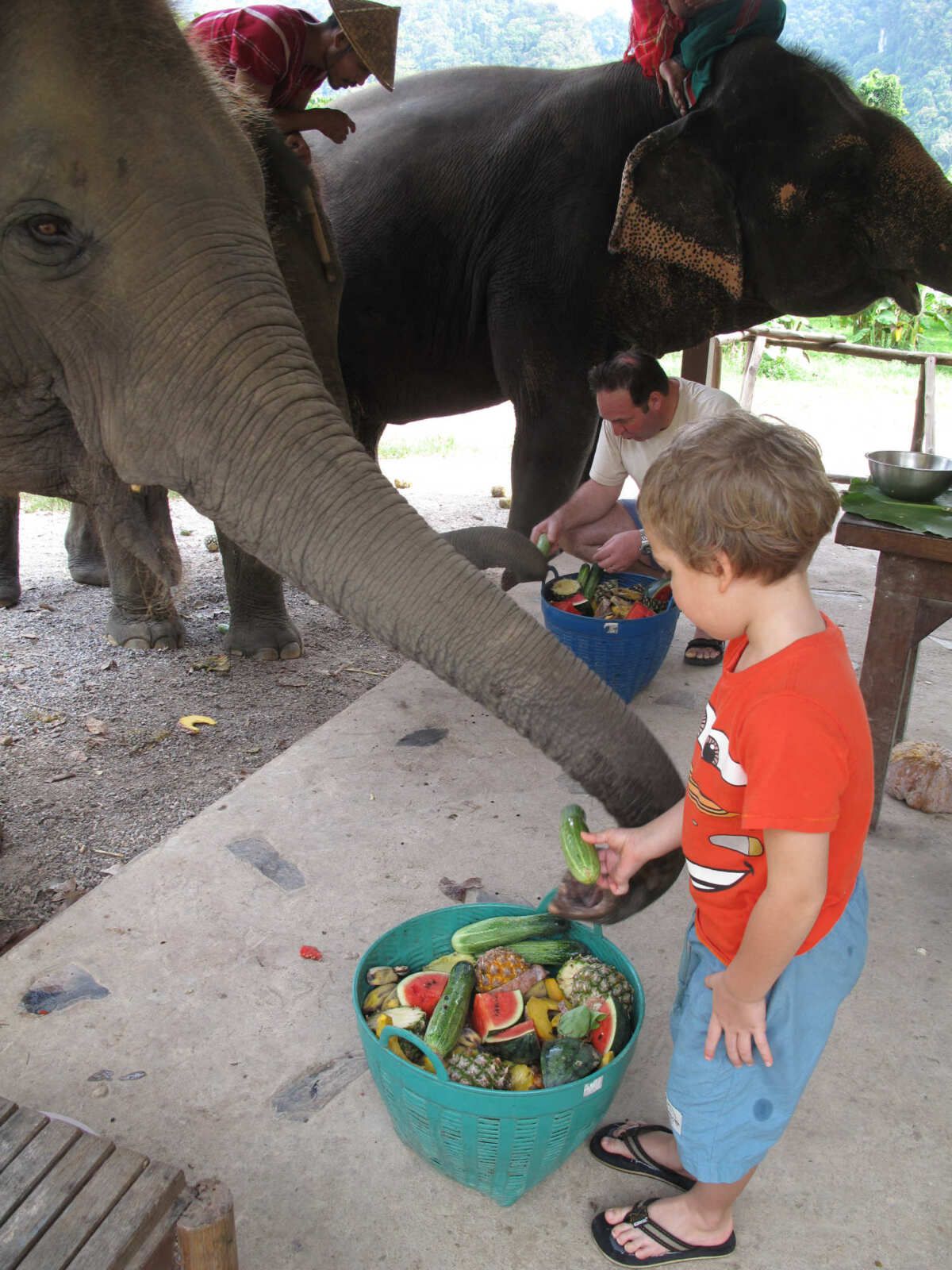 4. Jungle Feeling and kayaking in the Mangroves of Little Amazon or Khao Sok
Little Amazon is an area just north of Khao Lak next to Takua Pa with a jungle feeling and mangroves, through which many waterways meander. It is an easy half-day excursion that you can do with a guide or by yourself: just take a taxi there. Paddle kayaks through the mangroves and lush vegetation (very comfortably) and see birds, monitor lizards, snakes, frogs and even monkeys.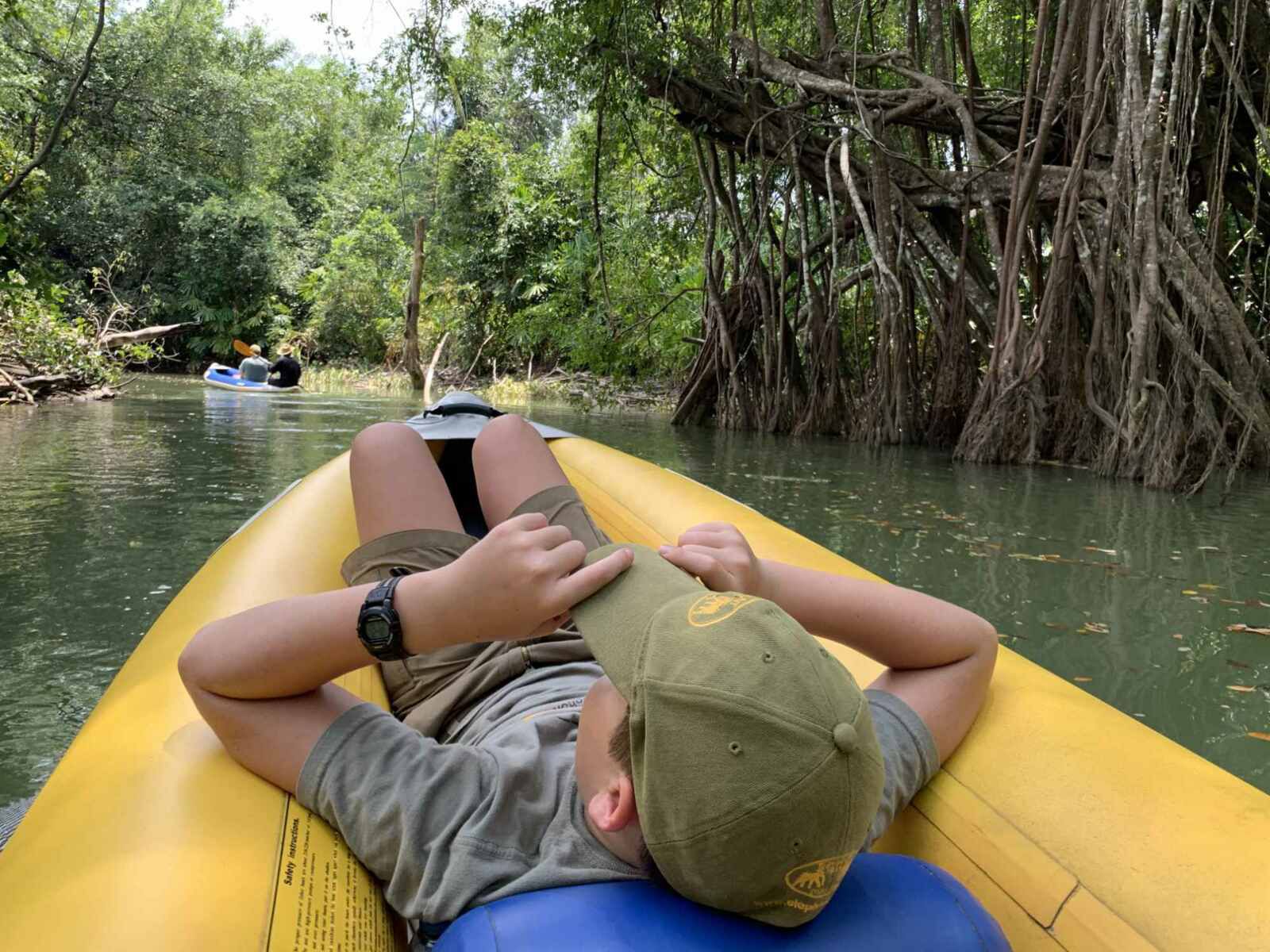 Picture: Junior spotting animals in the Little Amazon area
Kayak trips can also be booked in Khao Sok on the Sok River. There are no mangroves here, but rather the majestic limestone cliffs and you can also see snakes, lizards, birds, frogs and more animals. Some offer stops for taking a bath in the river.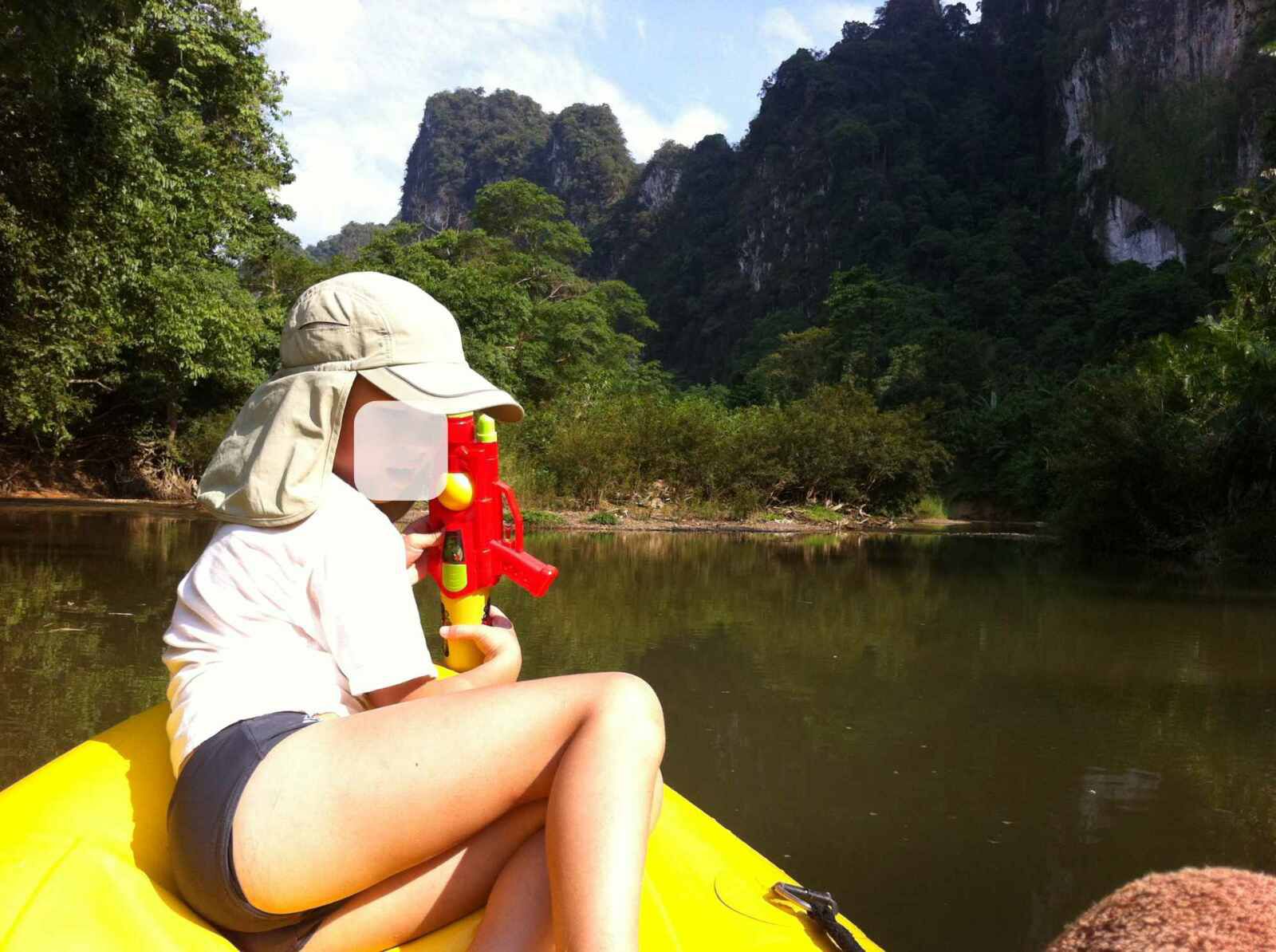 5. Explore the Phang Nga Bay
Book a day trip to the fantastic landscape of the Phang Nga Bay, which is not only a national park but also a world heritage site. A visit is almost a must and is also great with children of all ages! With the fast longtail boat you can experience the mangroves of the coast, the islands of the bay, go kayaking through a cave into a secret lagoon, see rock paintings and a "floating village" and the James Bond island. This is often combined with a visit to a cave temple with monkeys on land.
Picture: With the longtail boat on the way in Phang Nga Bay
Snorkelling trips are also available in Phang Nga Bay. Or just enjoy the sea by jumping off the boat during a stop ...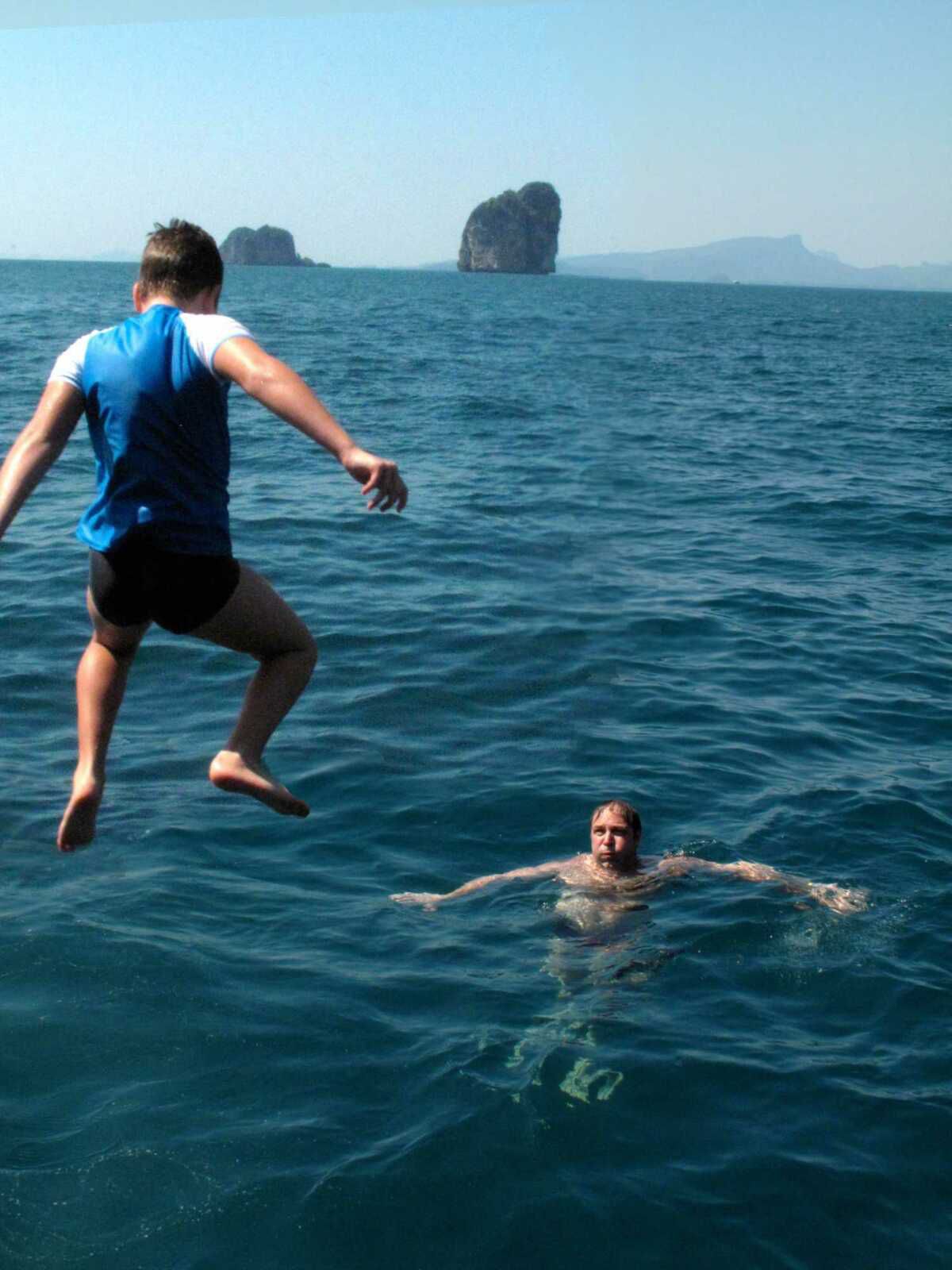 6. Go Quad Biking Offroad
The four-wheeled small vehicles (called quad or ATV) that can be used in the countryside are perhaps better suited for older children - from the age of 12, sometimes only from the age of 15 you can drive yourself. Before that you are a passenger - and should at least be able to hold on tight. The journey goes over rocks and sticks and occasionally through small rivers. An adventure to book near Khao Lak at Sai Rung Waterfall or south of the hill.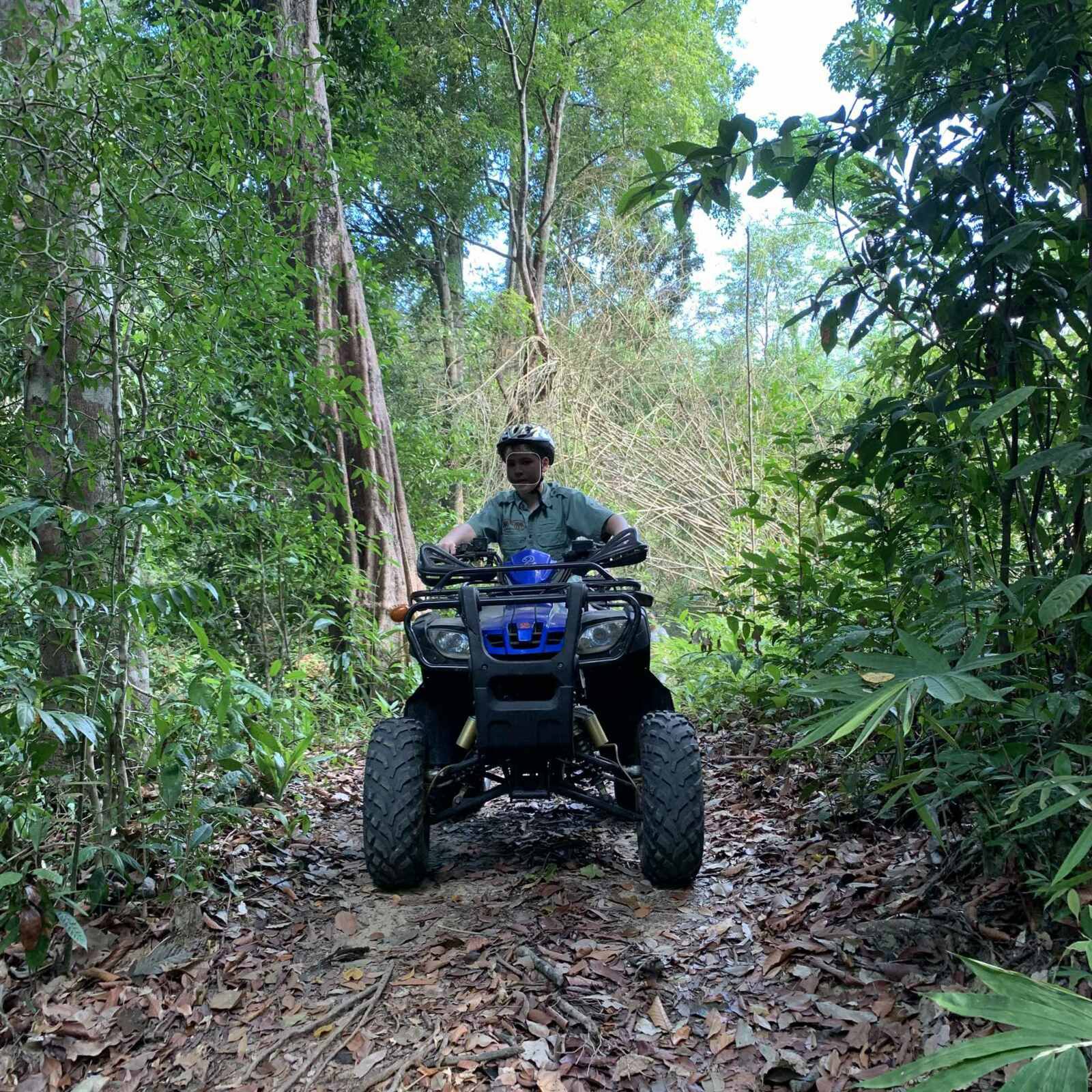 Picture: ATV Sai Rung
7. Minigolf and Labyrinth in Khao Lak
Just behind Bang Niang is the well maintained and entertaining minigolf course and next to it a (small) maze to explore. The mini golf course is well shaded, but it can still get quite hot around noon. Water is free afterwards. Pro tip: Be sure to spray mosquito repellent beforehand!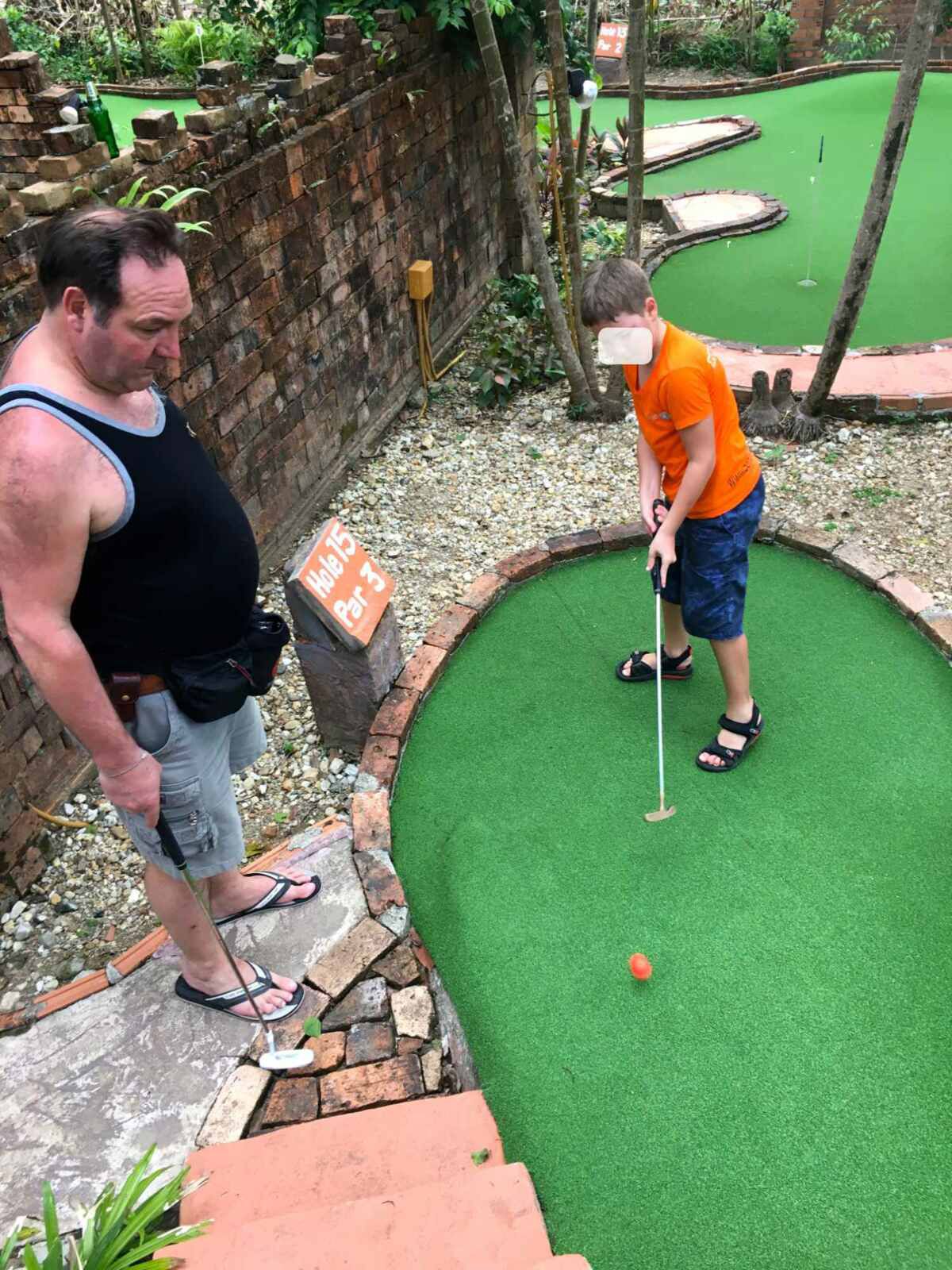 8. Bamboo rafting
When you go bamboo rafting, the guide uses a stick to steer you down the rapids. It is (nevertheless) a rather leisurely ride with beautiful views of the surroundings from the rather shallow river. In the dry season, the water level may be too low for this. Bring your bathing suit and enjoy!
Bamboo rafting is part of tours, but also possible to do by yourself at Komols Korner in the south of Khao Lak.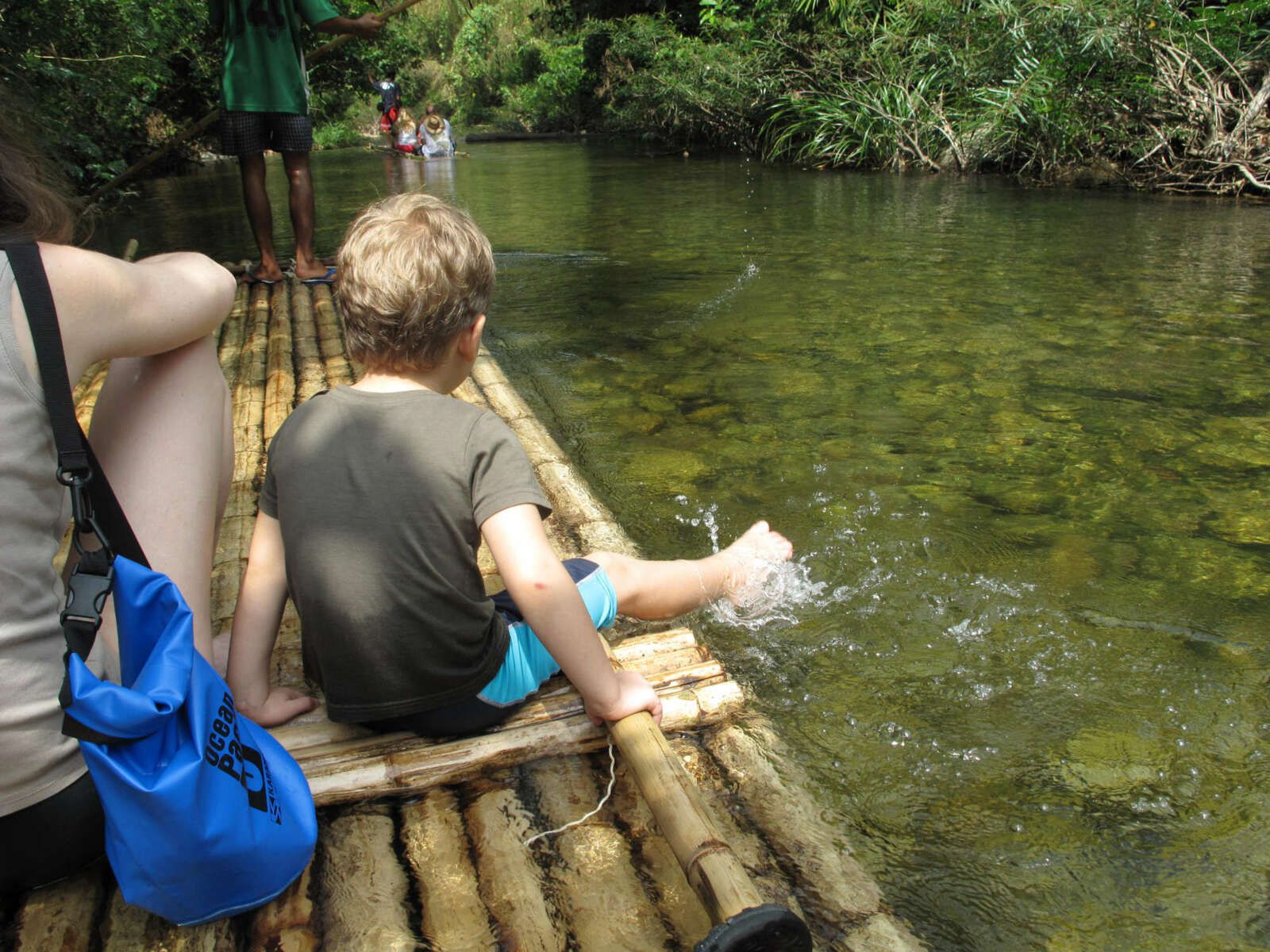 9. See some sea turtles and other sea animals
Sea turtles are an endangered species - and you have to be lucky to see them "live", for example while snorkeling and diving. In the meantime sea turtles come back to the beaches of Khao Lak and the surrounding area, to lay their eggs - but these are often collected today for their protection. Injured animals are also taken away and taken to the Turtle Conservatory at Thap Lamru, for example. There they can be viewed and visitors are given some information about the animals and the project.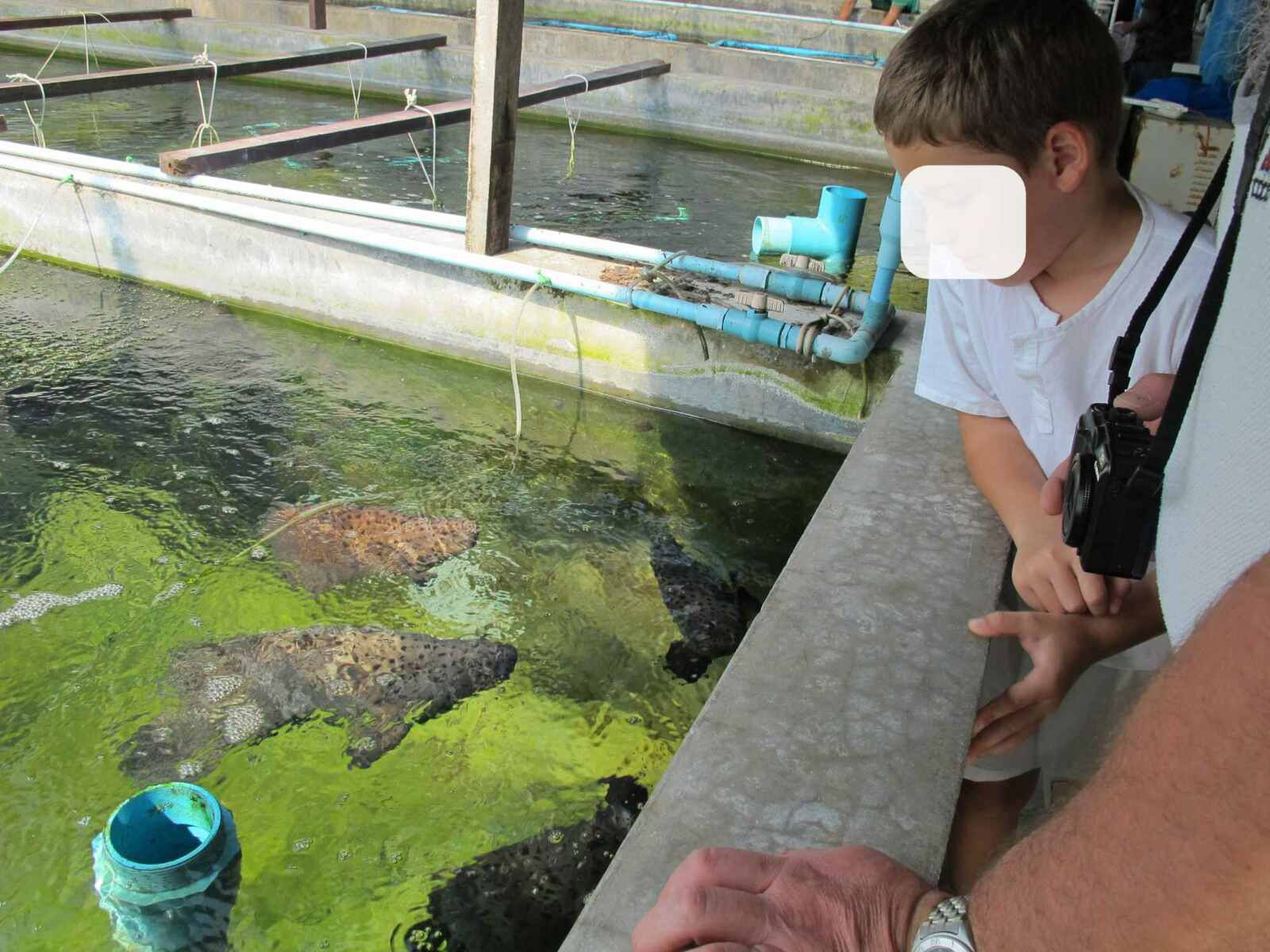 In addition to the conservatory in Thap Lamru, there is the "Turtle Heaven" at Thai Mueang which is located little further south, where you can also see turtles and other sea creatures.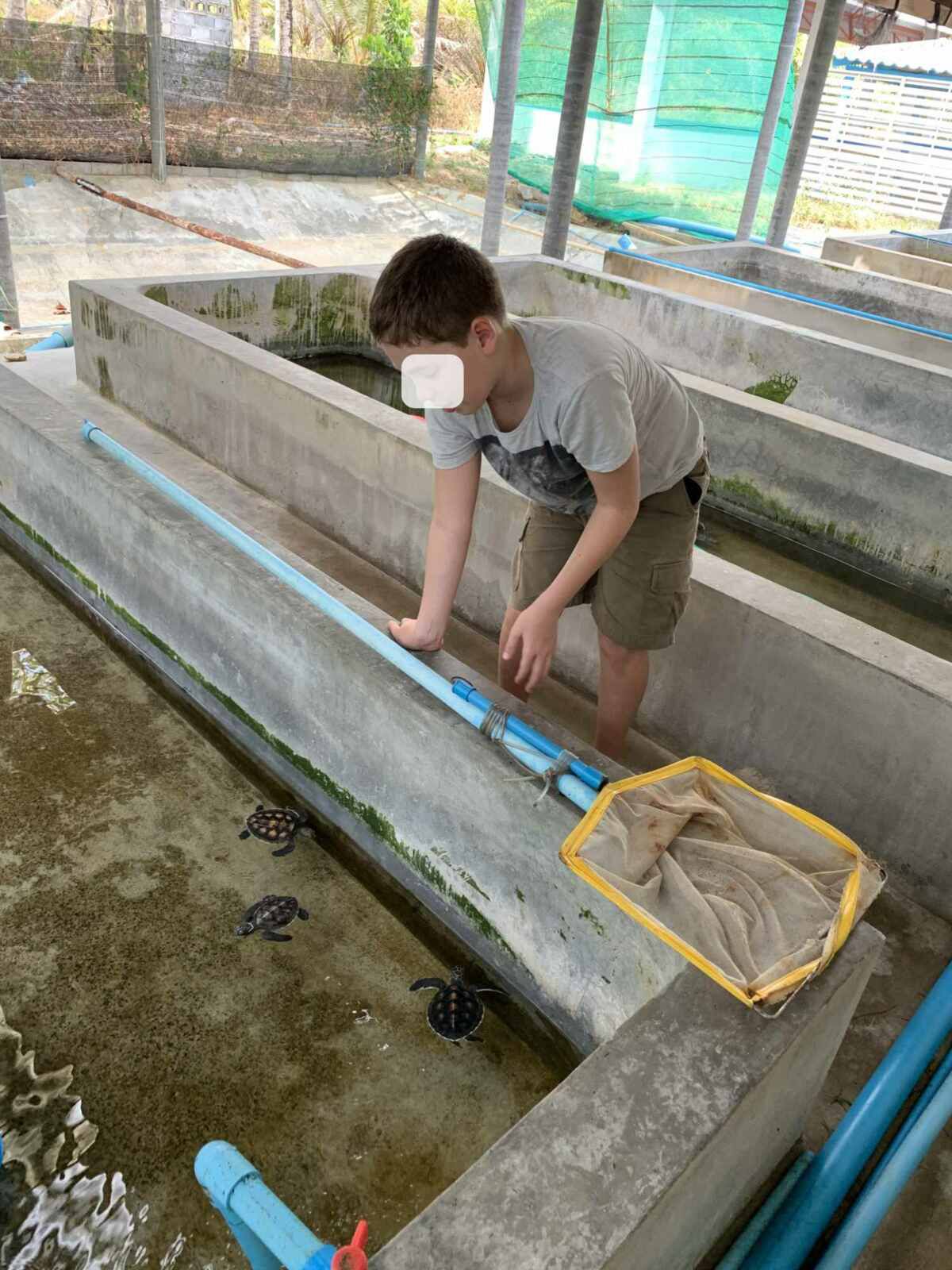 10. Explore a cave
With so many limestone hills and cliffs there are many interesting and exciting caves around Khao Lak. For example:
The cave temple with the reclining Buddha in Phang Nga: Wat Suwan Kuha. Pro: with monkeys!
The elephant cave Phung Chang Cave, where you go through the water while visiting: wading and with boats and rafts. Pro: exciting path and very beautiful stalactites and stalagmite formations. (Unfortunately, you are not allowed to take photos yourself).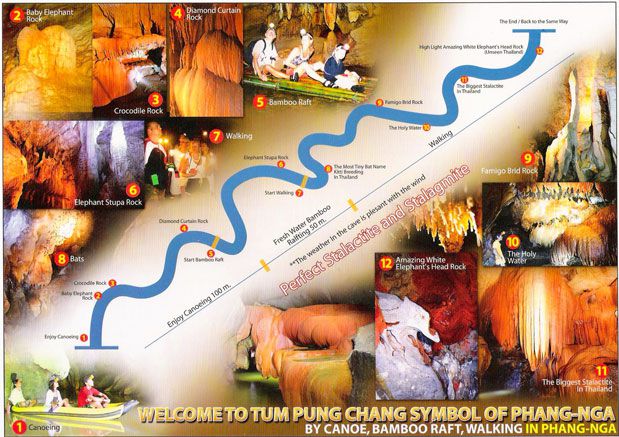 There are several caves in Khao Sok - especially when visiting Cheow Lan Lake, they are easy to visit. Famous is the Diamond Cave - very pretty and easily accessible from the lake. The Coral Cave is very remote and can only be reached with a small hike and bamboo raft, but it is the most beautiful here. Nam Ta Lu Cave is the most adventurous: Accessible via a short hike, the path through the cave then leads through waist-deep water and narrower passages.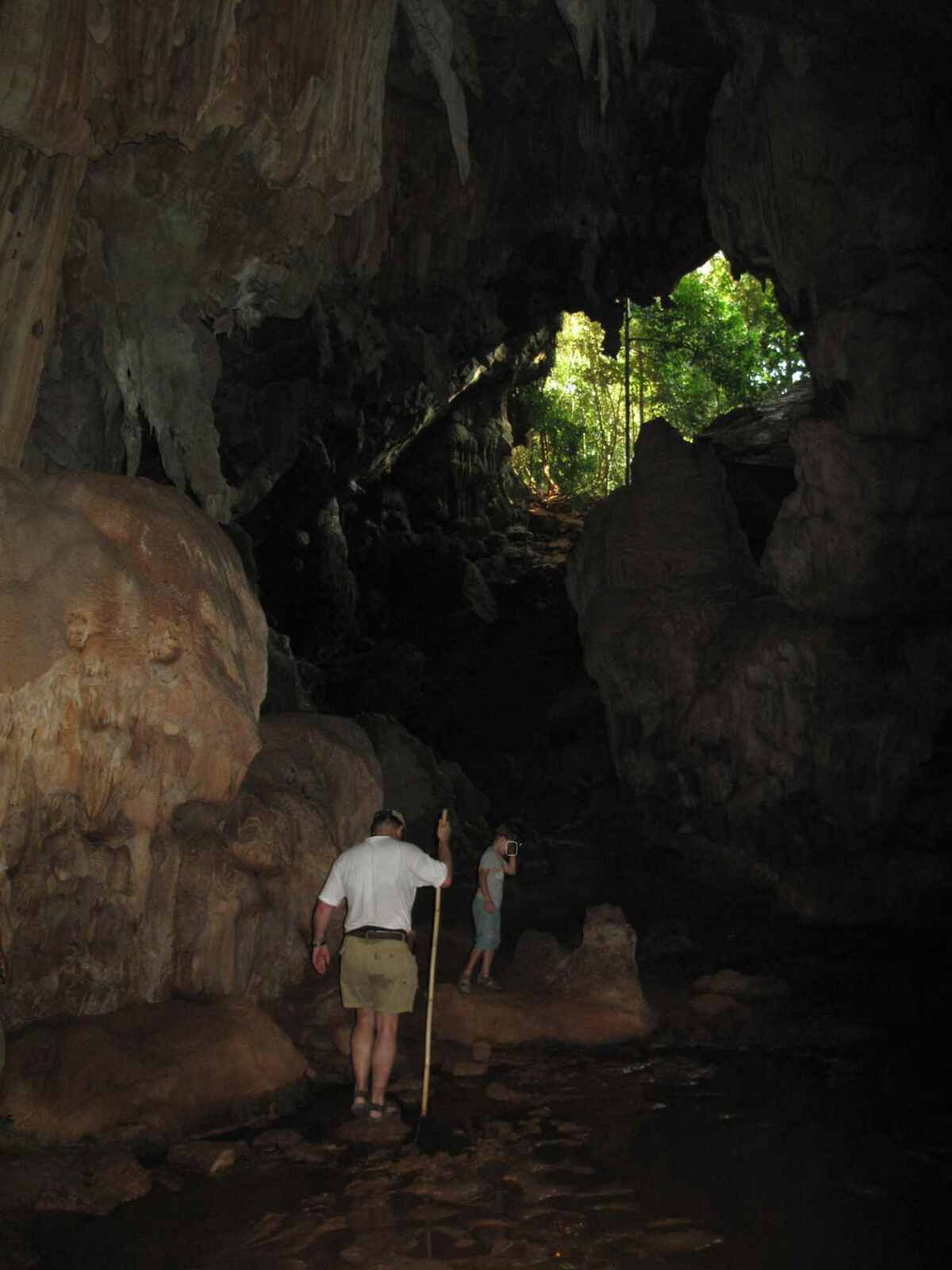 unnamed Cave in the Khao Sok Nationalpark
11. Learn about the tsunami of 2004
Khao Lak was one of the hardest-hit regions in the tsunami that struck in December 2004 after the Indian Ocean earthquake.
A lasting reminder of the tsunami is the Navy Boat 813, which was pushed inland by the wave and still lies there – it's now a monument that's quite impressive to look at. The Tsunami Museum next to it offers some insight into what happened back then, but I prefer the other options: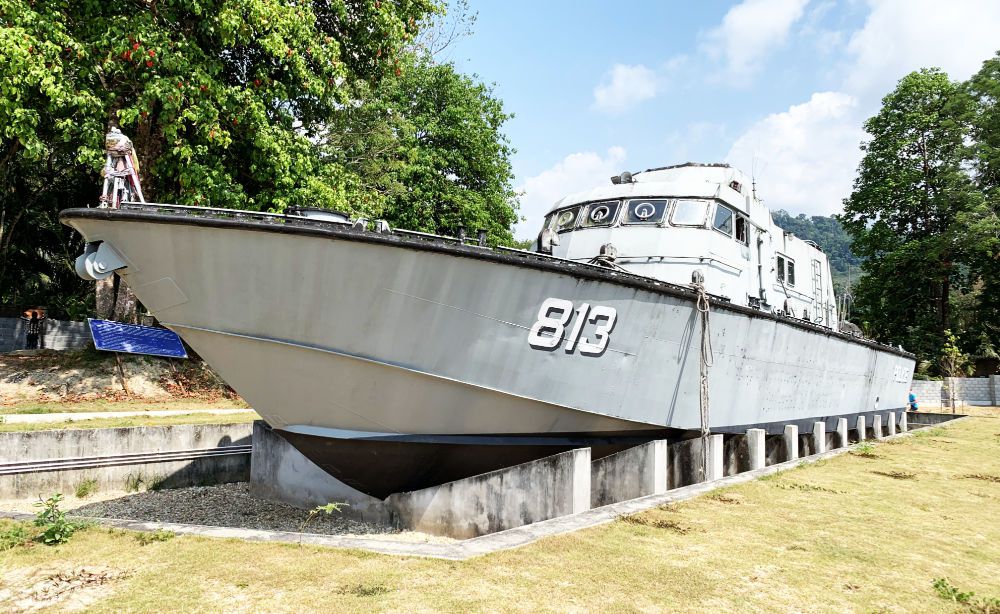 The Tsunami Memorial at Ban Nam Khen (just north of Khao Lak) and the new Tsunami Museum a little further inland there.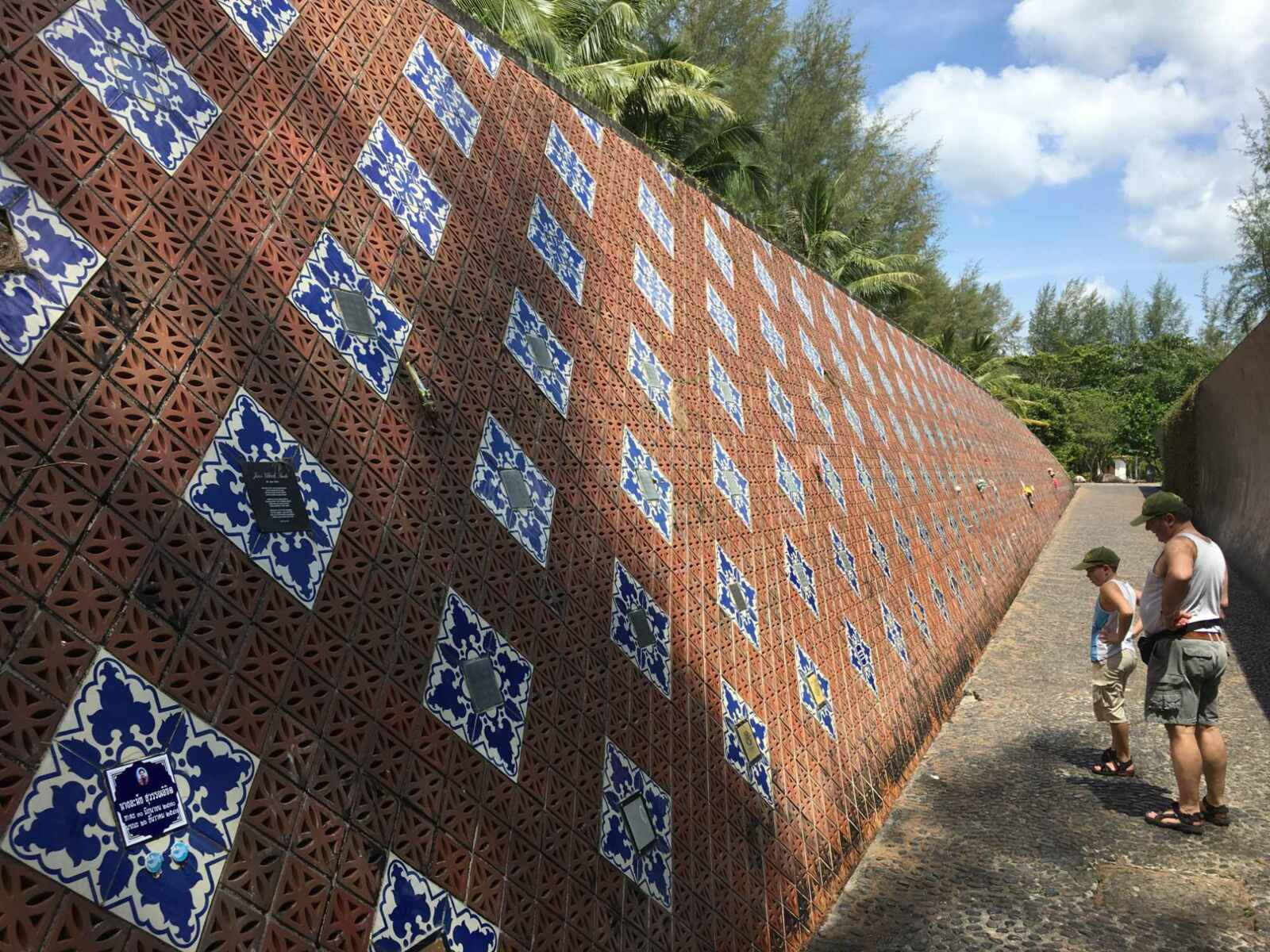 12. Snorkeling at Khao Lak
The sea directly in front of Khao Lak itself is not ideal for snorkeling from the beach. The water drops too slowly and the sand is often churned up by the waves, which are not broken by a coral reef off the coast here, so visibility is often not optimal. But you can take a longtail boat trip to nearby Khao Na Yak in front of Tab Lamu Pier. There are intact coral areas and many colorful fish.
Or you can go snorkeling on the Similan or Surin Islands at various locations. Caution: the speedboat ride out here can be very bumpy and is not suitable for pregnant women, people with back problems or very small children. But the snorkeling and diving spots here belong to the best in Thailand.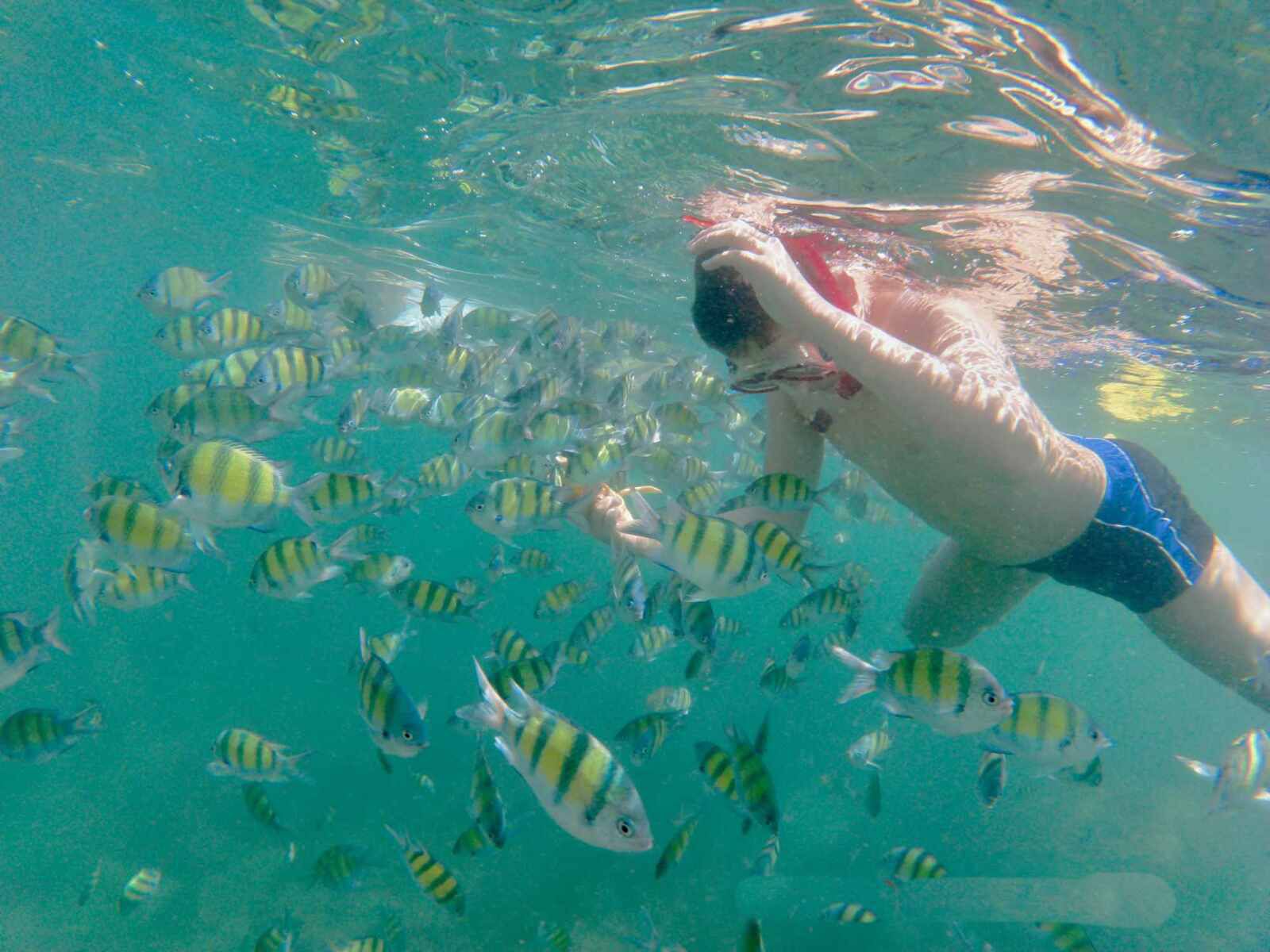 Or dare to take a diving course: Children from the age of 8 can do the "Bubblemaker", an introductory diving course in the pool. They are accompanied and instructed by their parents and an experienced diving instructor. The minimum age for junior diving courses is 10-12 years.
13. Small bike rides in the area
You can see a lot more of the area from a bicycle than from a vehicle and it is safe and beautiful on the many small roads. Cyclists and pedestrians should stay away from the highway 4 - whenever possible. Because it can get very warm during the day, excursions should be short and/or under trees / in the forest are preferable. Bicycles can be rented at the hotel or directly from the tour operators.
Tips for small excursions that can also be done with children:
To Chong Fa Waterfall. Start at the Tsunami Memorial - Small White Temple - Ton Chong Fa Waterfall - back to Khao Lak and visit the market (Fresh Market in the morning).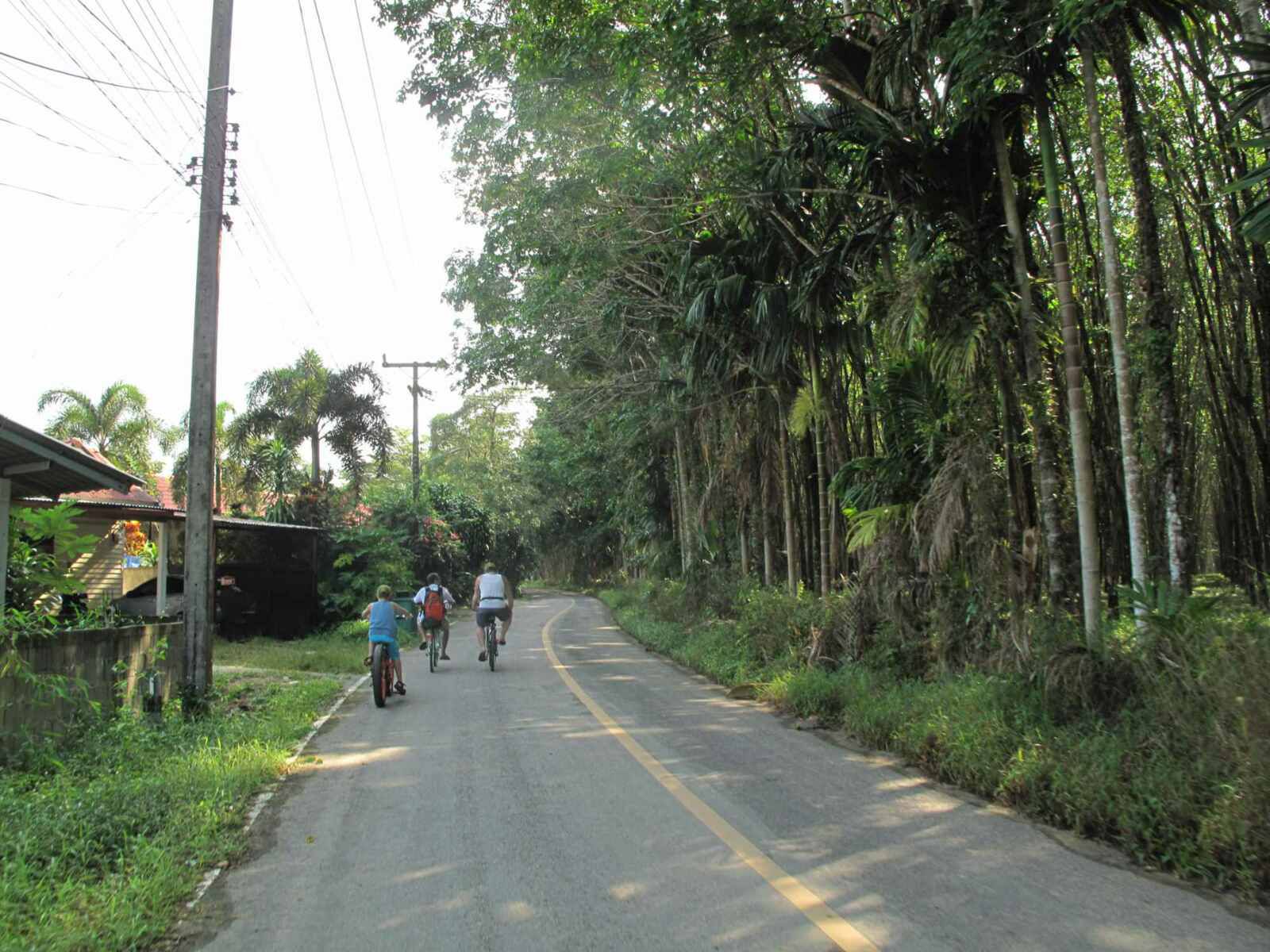 Or something more ambitious: North to the Sai Rung Waterfall - have something to eat in one of the restaurants there in (!) the river - go to the sea at Memories Beach - have something to drink in the Memories Beach Bar - proceed through the hinterland between the beach and Highway 4 back to Khao Lak.
14. Visit the night market
The night market in Bang Niang - opposite the washed-up police boat - takes place Monday, Wednesday and Saturday afternoons to evenings. Besides shopping for souvenirs, clothes and toys, you can try many specialties here, including something as exotic as roasted insects. A visit is almost a "must" here anyway: so many things to see and try.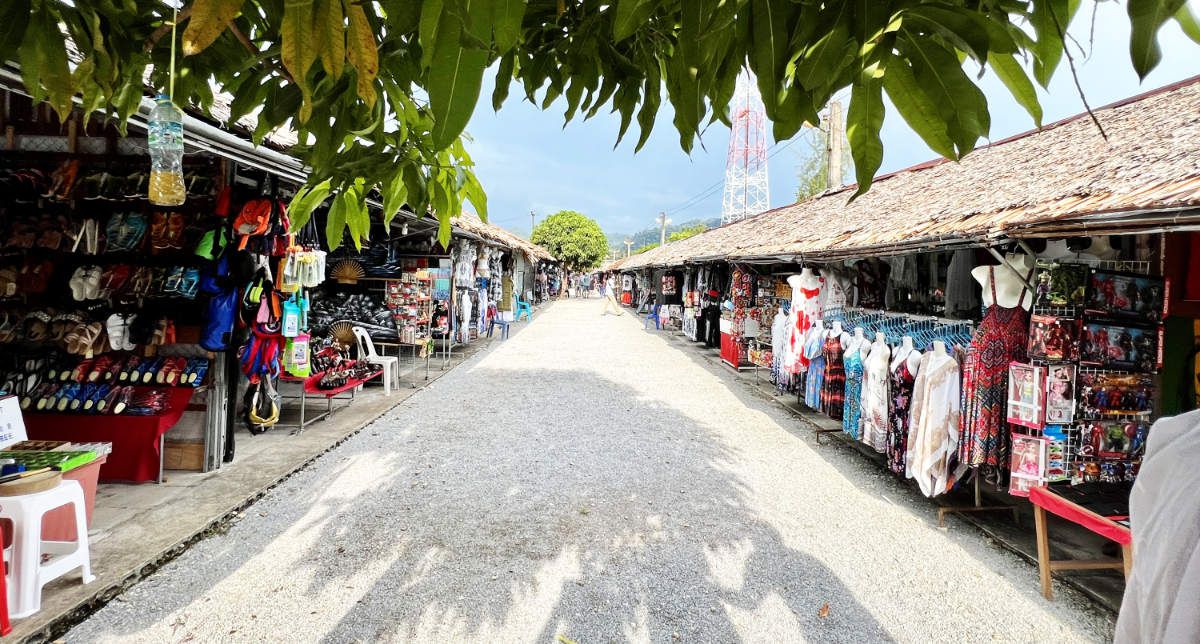 15. Discover the sunday market in Takua Pa
In the main season (now also outside of it) a historic street market takes place every Sunday afternoon in the old town of Takua Pa, which is also visited by tourist tours. But you can also book excursions yourself or make them yourself - any taxi can take you there. It's well worth strolling through and sampling some unusual snacks and seeing artisans making batik or punching the delicate shadow figures out of cowhide. There are few other souvenirs to buy and the food is too good to take it home.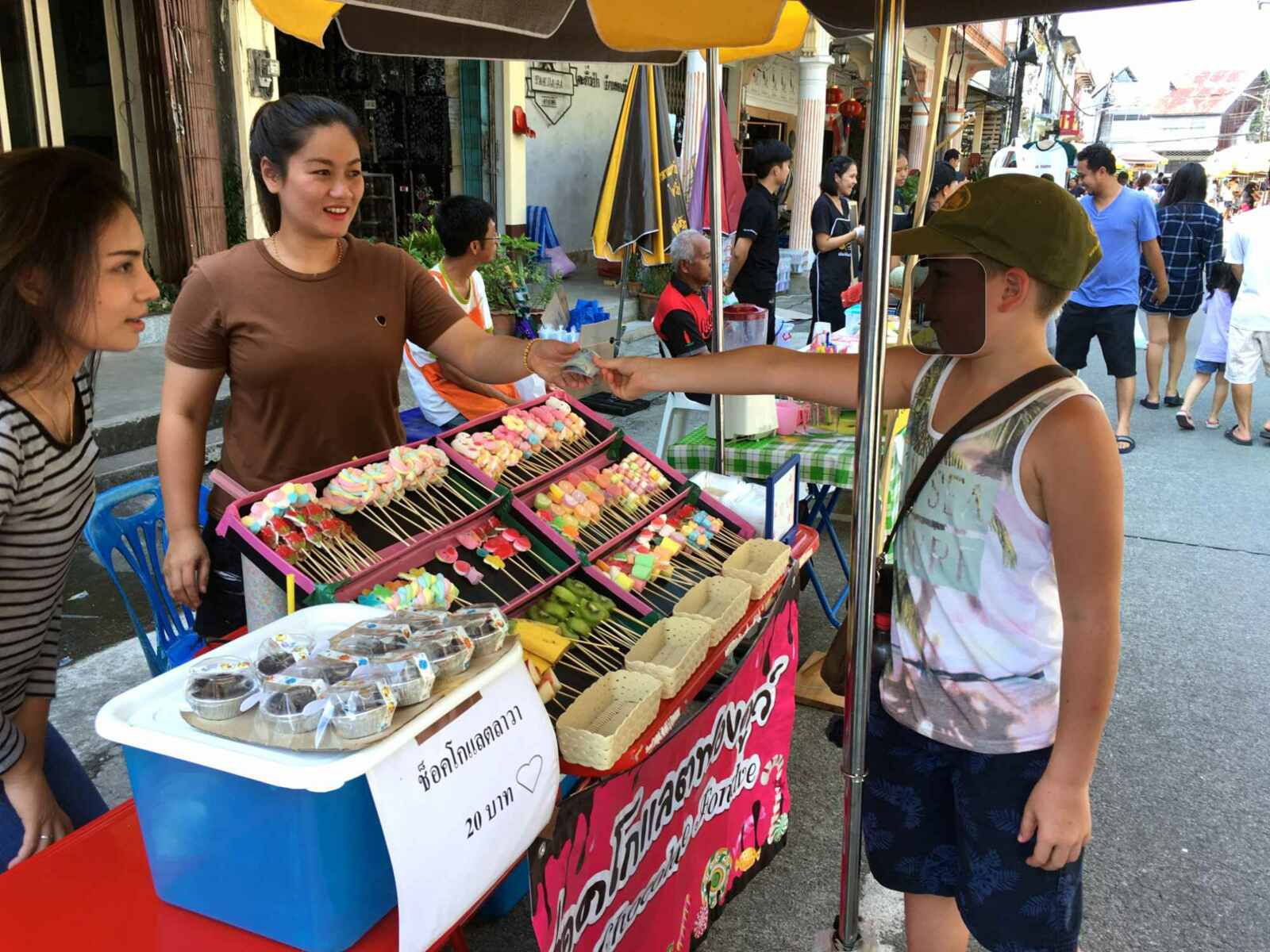 16. Eat with your feet in the river
At the Sai Rung Waterfall there are 3 restaurants where you can eat in the small river: Right by the waterfall and 2 closer to the scenic road but on the same river: Klong Koo and Krua Malee. They are all small restaurants that offer Thai food and drinks with one special feature: you sit in the middle of the forest, in the stream with your feet in the water. Good for lunch or a snack between meals - not ideal for dinner, as many mosquitoes can come with dusk. Opening times are therefore approx. 11 a.m. to 6 p.m.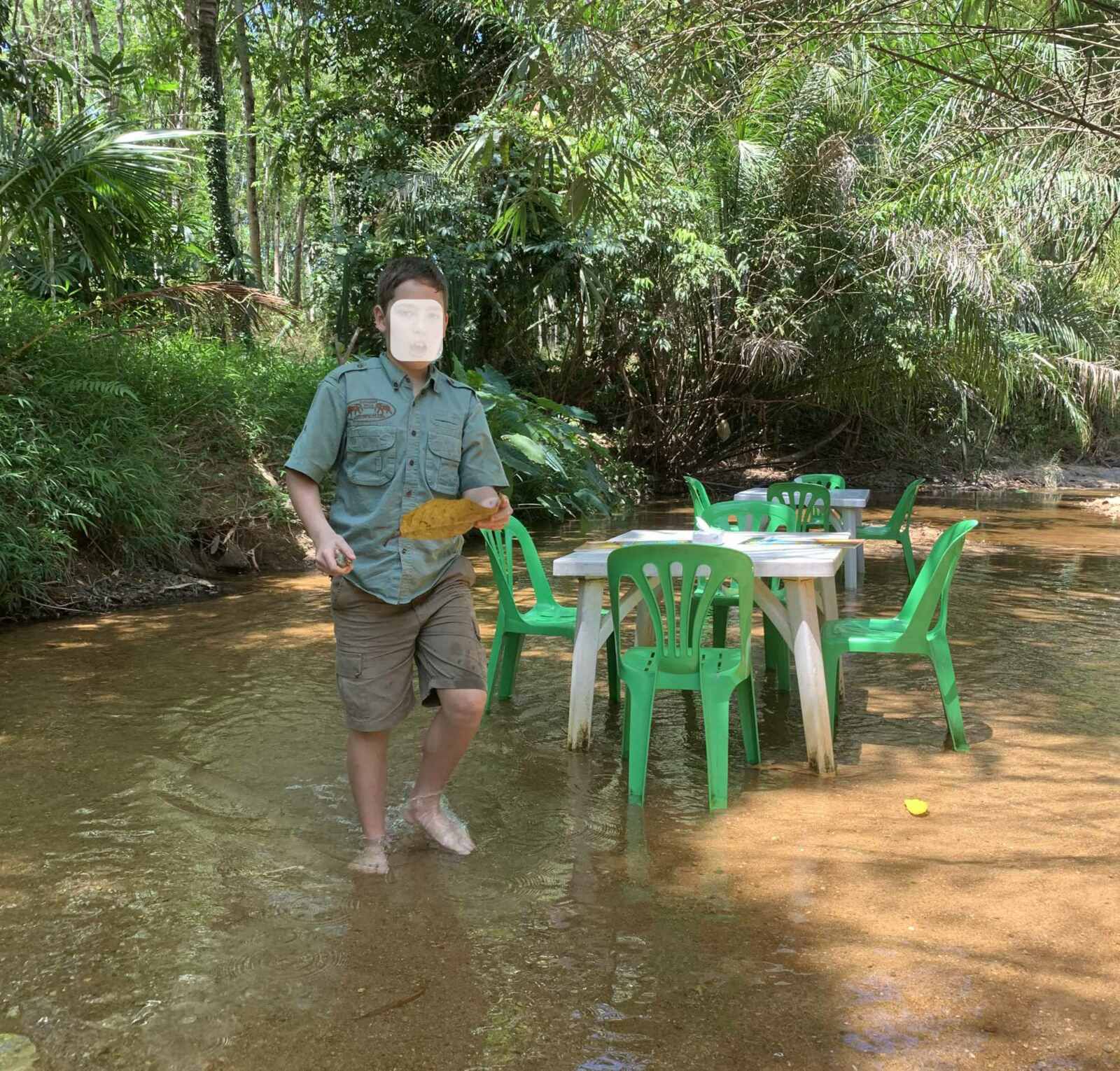 17. Waterpark at Khao Lak: Forrester Khao Lak
On the way to Chong Fa Waterfall, a mini water park is being built in the middle of nature. It was still under construction when we last visited in March 22 but it is said to be open for the new season (from November?). It has a playground, a lake with covered tables to eat at, a restaurant next to it, another lake with small colorful boats. The main attraction will probably be the long slide: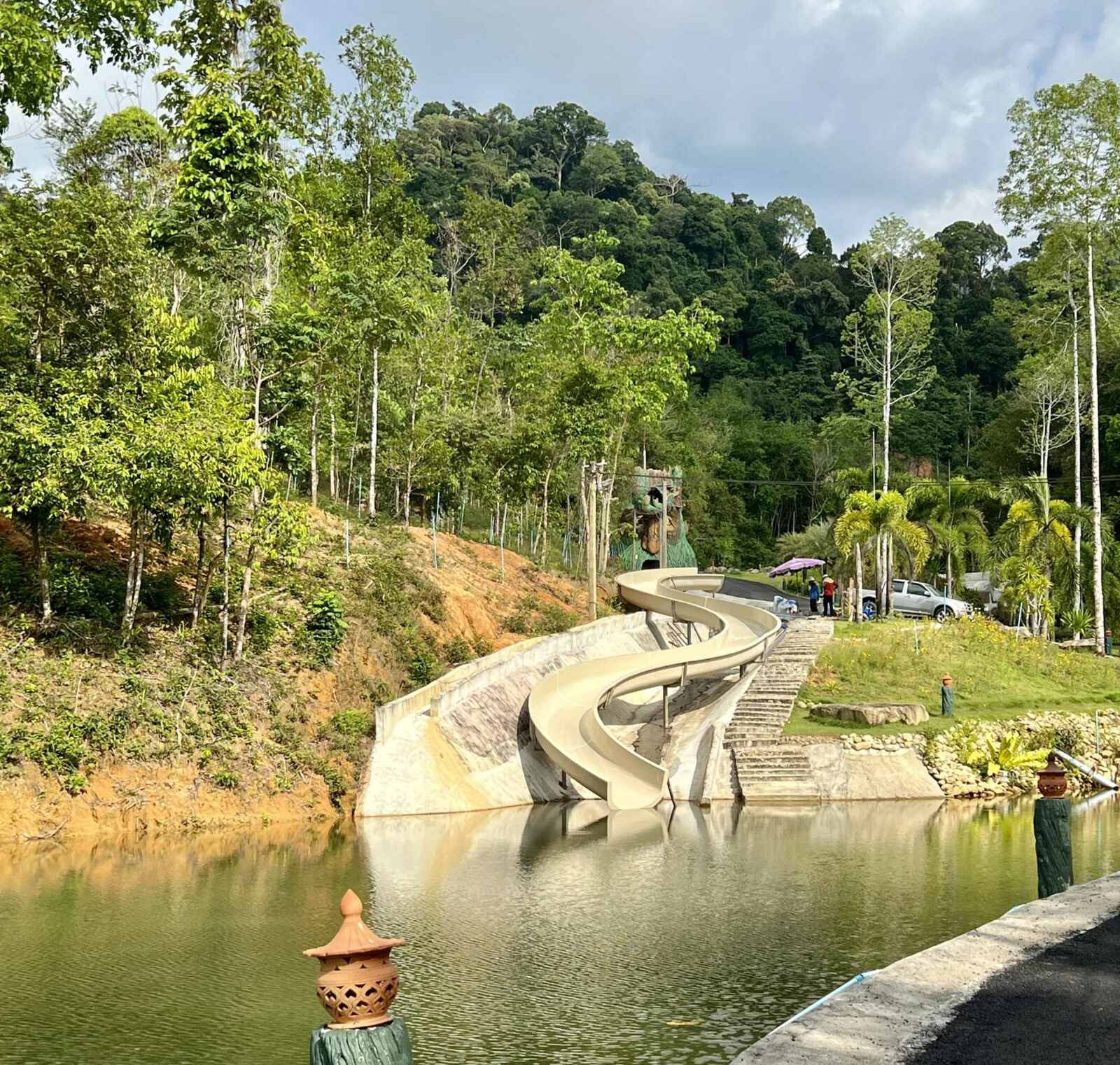 In case that it isn't already open: Down by Phang Nga Bay there is the Dinosea Water Park, a large water park with colorful facilities (lots of plastic). Or go further down Phuket for a day at Splash Jungle or Andamana Waterpark.
18. Take a lesson in Surfing, Stand-up paddling (or Thai Boxing)
No picture of this, but at Memories Beach beginners can take lessons in surfing, stand-up paddling or Thai boxing (on land, of course). Memories Beach at Cape Pakarang is the best spot in Khao Lak for surfing. In the high season, the waves are gentle enough for beginners to learn how to surf.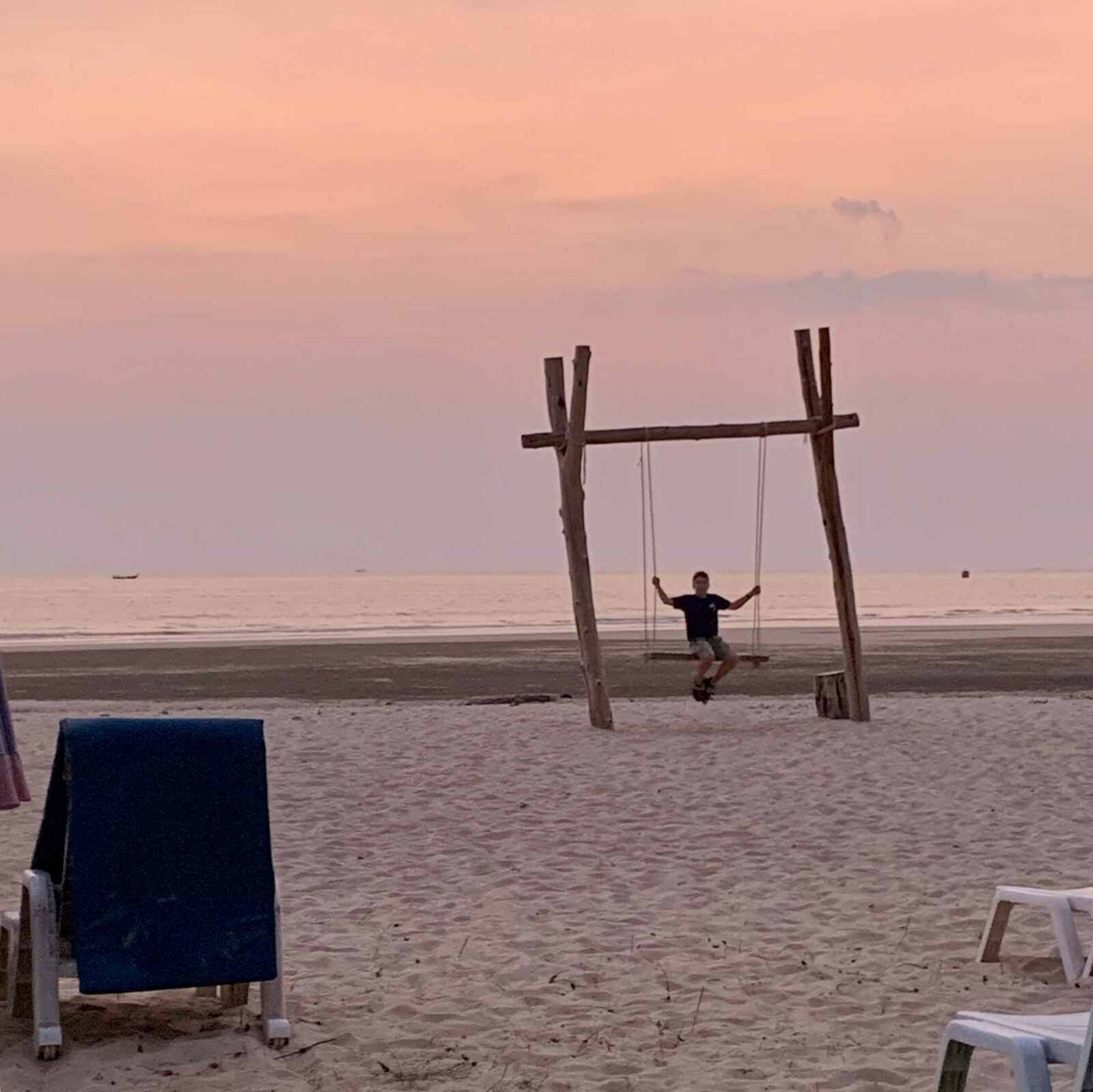 19. Is it hot enough? Try cooking eggs in the natural hot springs of Kapong
Experience some extraordinary nature - and see if you can really boil eggs in the natural hot springs (yes!). Take your bathing suit with you - where the spring water mixes with the river, you can swim. There may also be eggs for cooking (including a basket) there on site.
The hot springs are in Kapong, which is inland of Khao Lak and to reach it, you have to drive around the hills that lay in between. The route is panoramic, especially if you don't take the main road.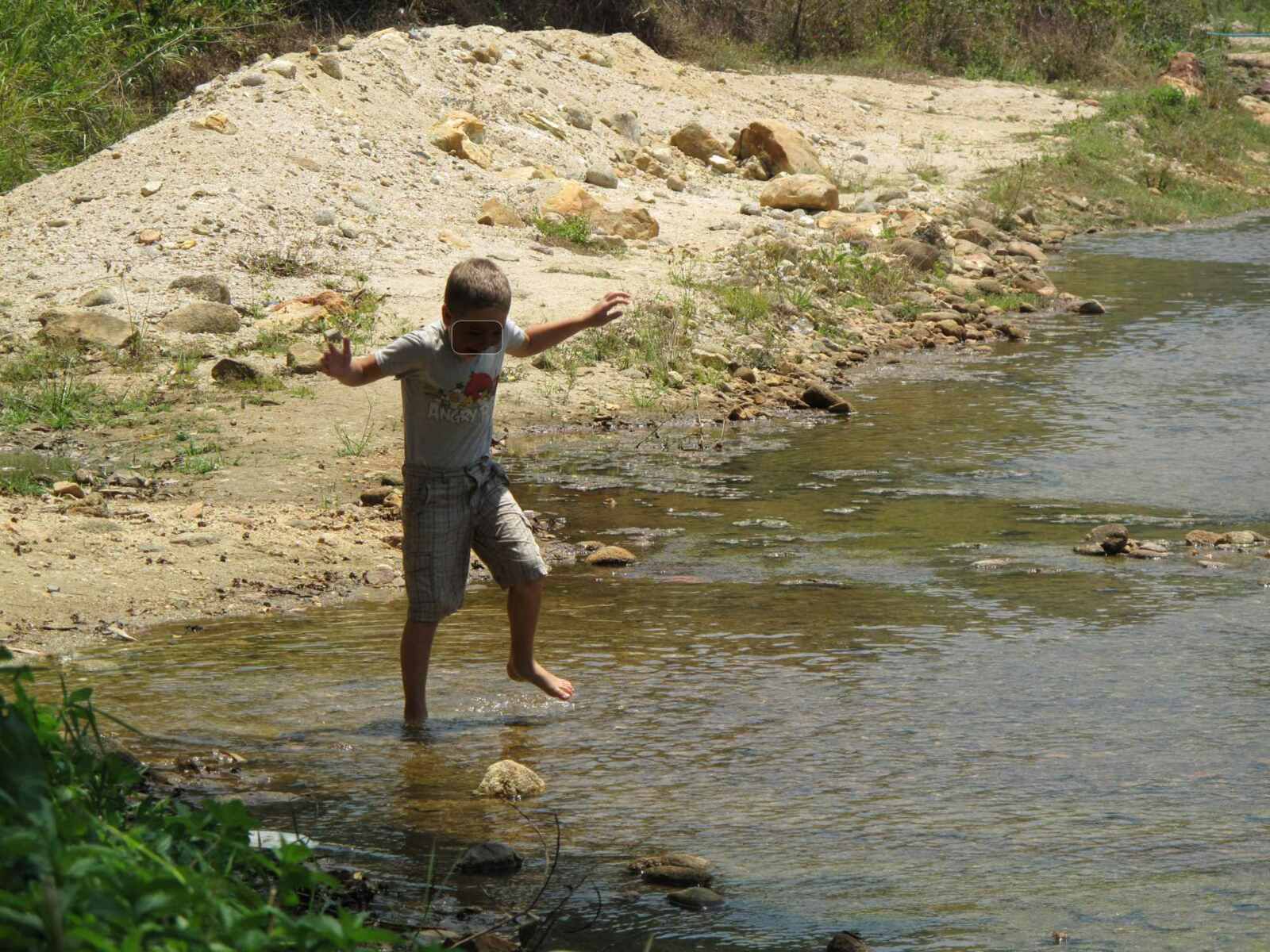 20. Visit a Thai Temple
A bit of local culture you can also do with smaller children: visit temples and marvel at the colorful architecture. Important: dress decently (cover your shoulders, etc.). Before entering the temple, you take off your shoes.
Temples worth seeing in Khao Lak:
Khuek Khak Temple, new, beautifully colorful, animal figures in the garden.
Wat Phanat Nikhom, the small white temple near the police boat, has mini light show-like lighting at night.
Tha Sai: the wooden temple right on the beach at Thai Mueang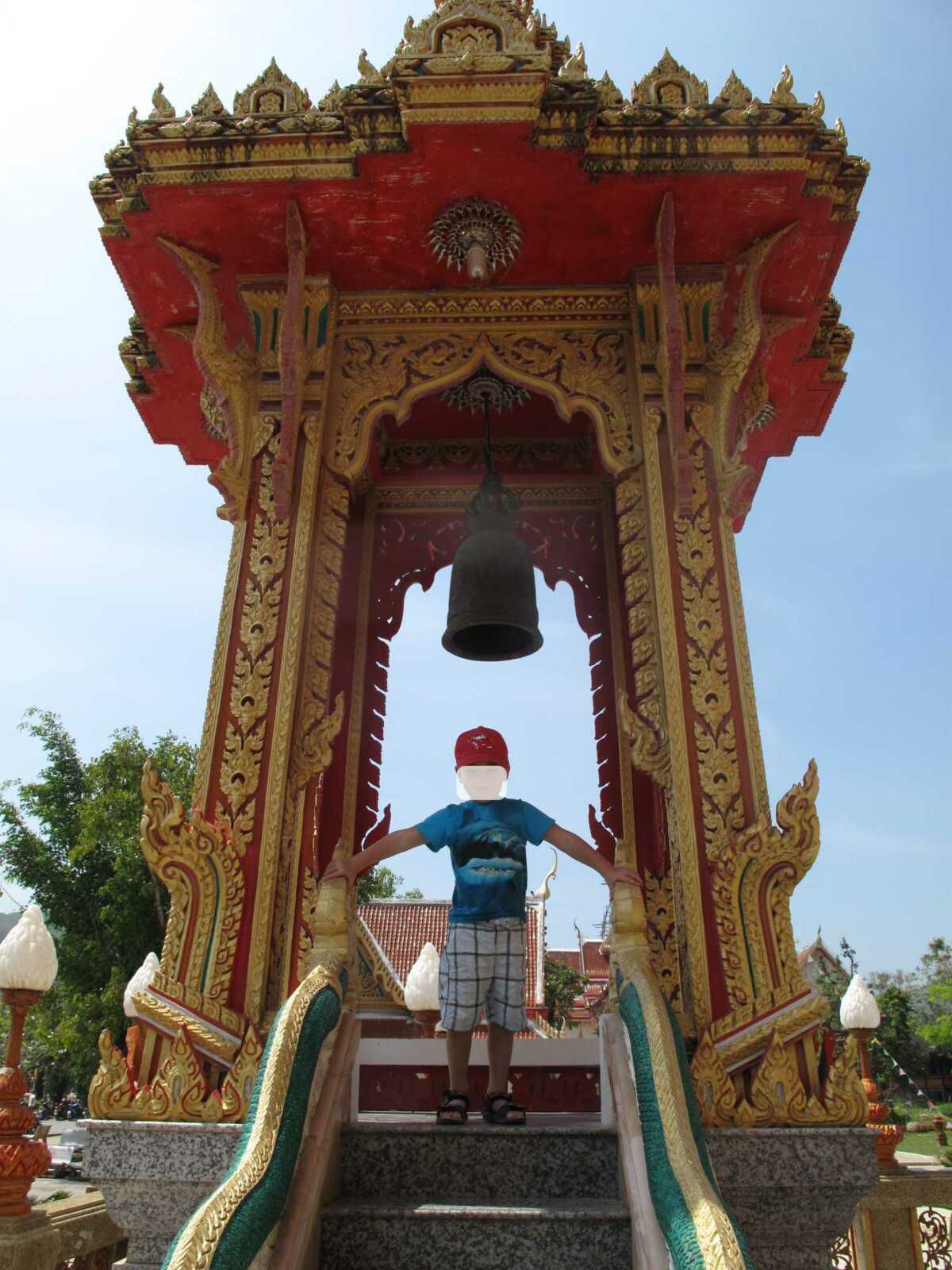 Image: Junior at Wat Chalong on Phuket.
Besides the Thai temples, there are also beautiful Chinese temples in the area - especially the one in Takua Pa. A visit to them is especially worthwhile around the time of Chinese New Year, which is extensively celebrated here (but also otherwise!).
21. Treat the kid to a Thai massage
Children can also get massages - adjusted accordingly, so they are much gentler than with adults. Ask beforehand if they have experience with it and from what age they can do it. Our Junior liked it very much, even if he still looks a little unsure here (at the first time in Quan Spa in the hotel JW Marriott).
It doesn't have to be a full massage, just the neck or hands or feet are fine, too for a start.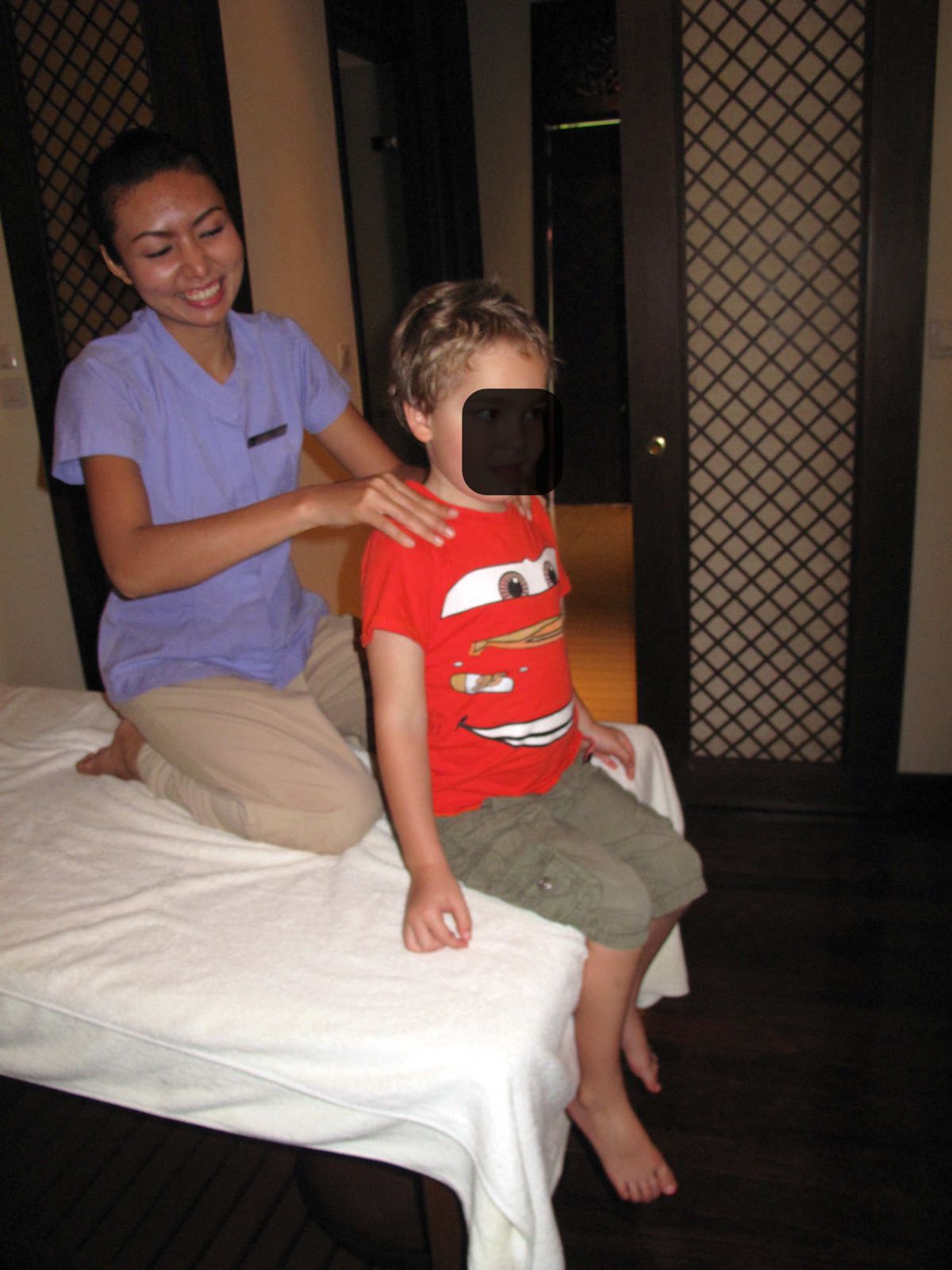 22. Eat Thai Food and learn to cook it
About the food in Khao Lak: There is not only pizza and fries and nuggets and spaghetti (also, but not only). Thai is so yummy and there are also things that are not so spicy that children like to have. Junior's Favorites: Vegetables and shrimp fried in batter (tempura). Chicken skewers with peanut sauce (satay), mango sticky rice (coconut milk rice with Thai mango). A mild coconut milk soup also works, or something sweet and sour with pineapple.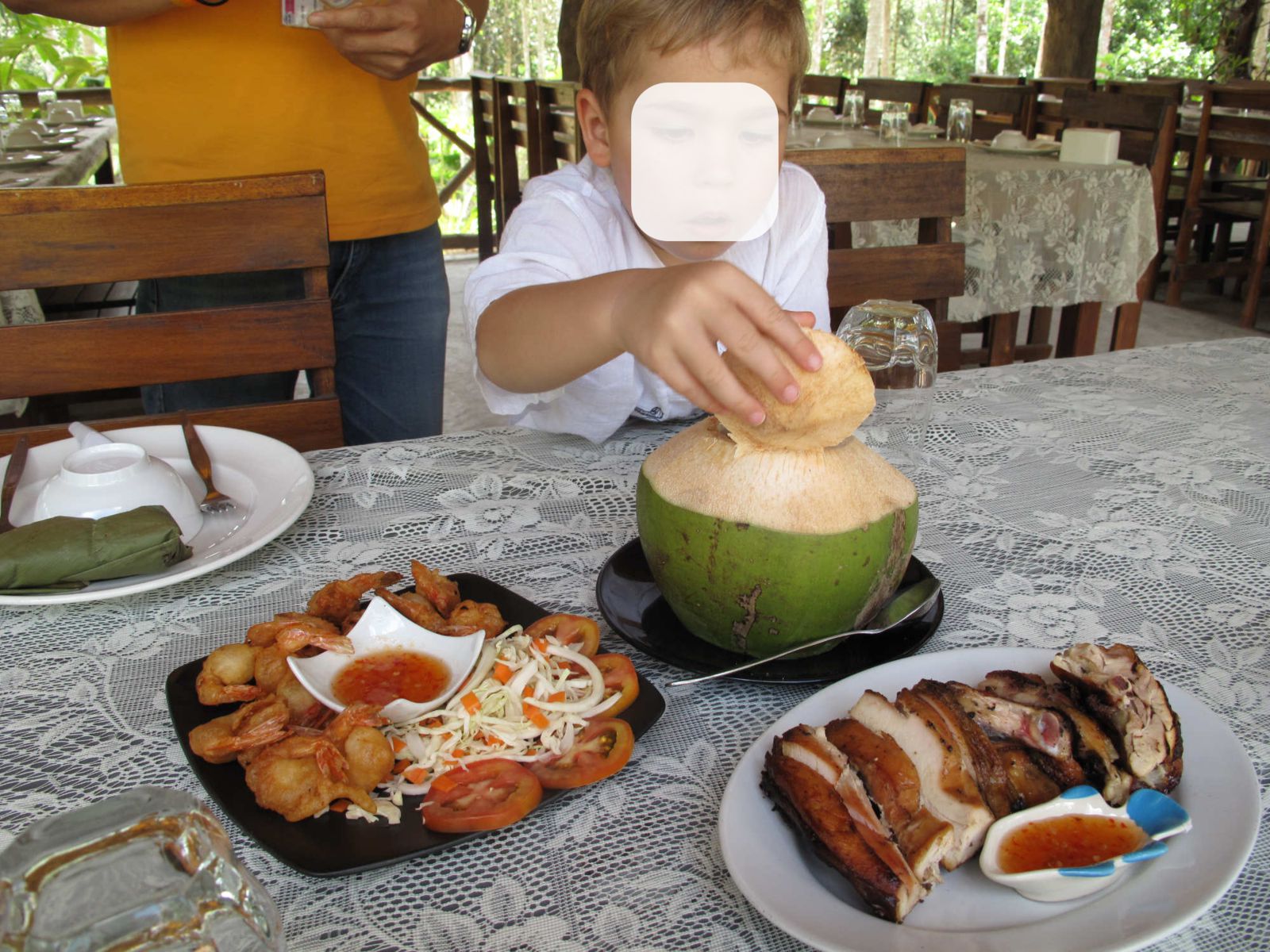 Cooking courses are fun for the whole family - even the little ones can lend a hand and help. They come with you on some trips. Many hotels offer this, but you can also do it (somewhat more privately) in restaurants or with other providers. After cooking together, we eat together.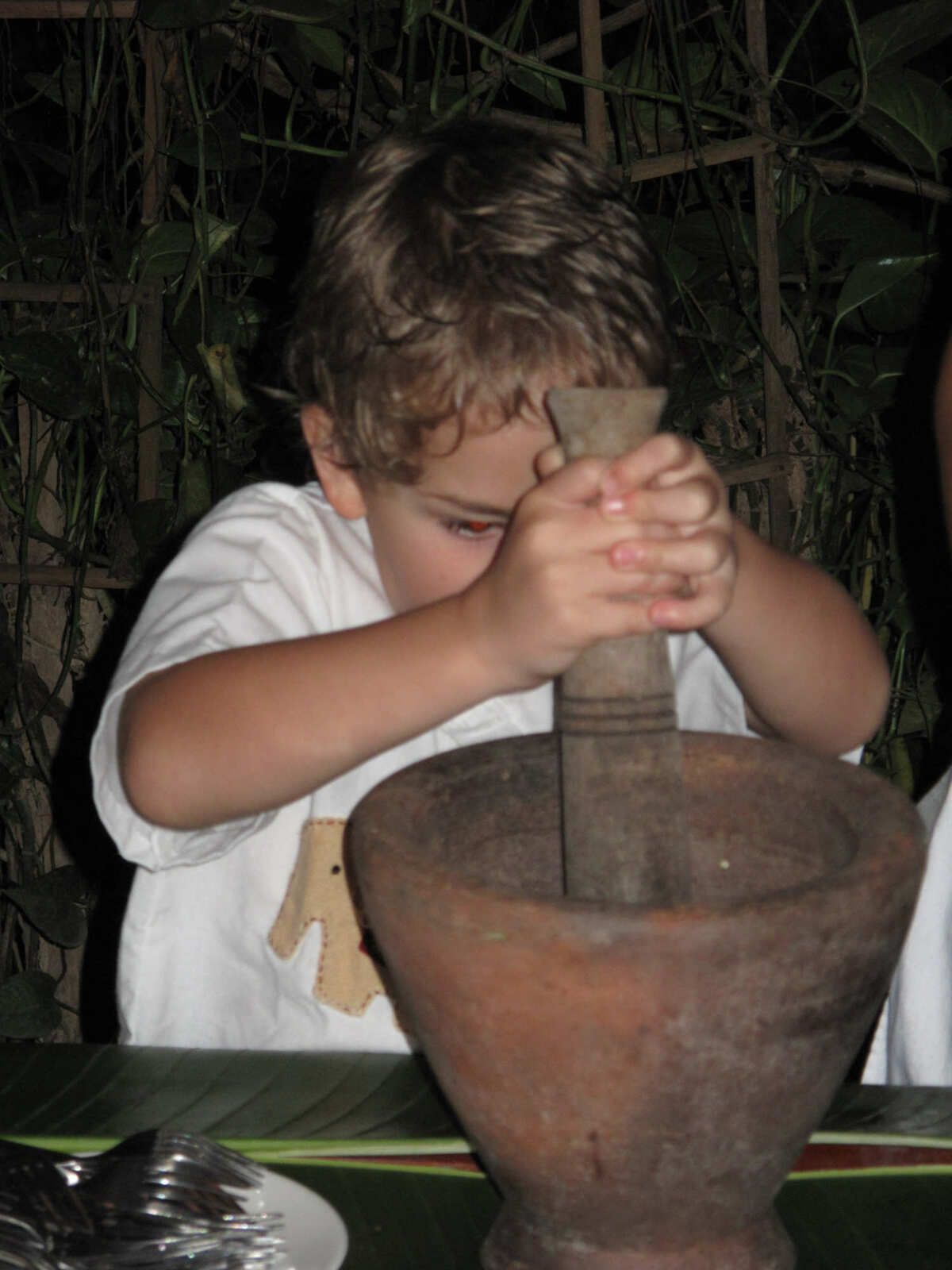 23. Ask for a mocktail
Junior also wants a colorful drink like the grown-ups? No problem - mocktails are alcohol free but contain colorful fruit juices and syrups. Most Thai bars and restaurants will be able to mix one and are happy to do so. Our Junior was later allowed to help occasionally and now knows how to do it and has fun mixing one for everyone at home.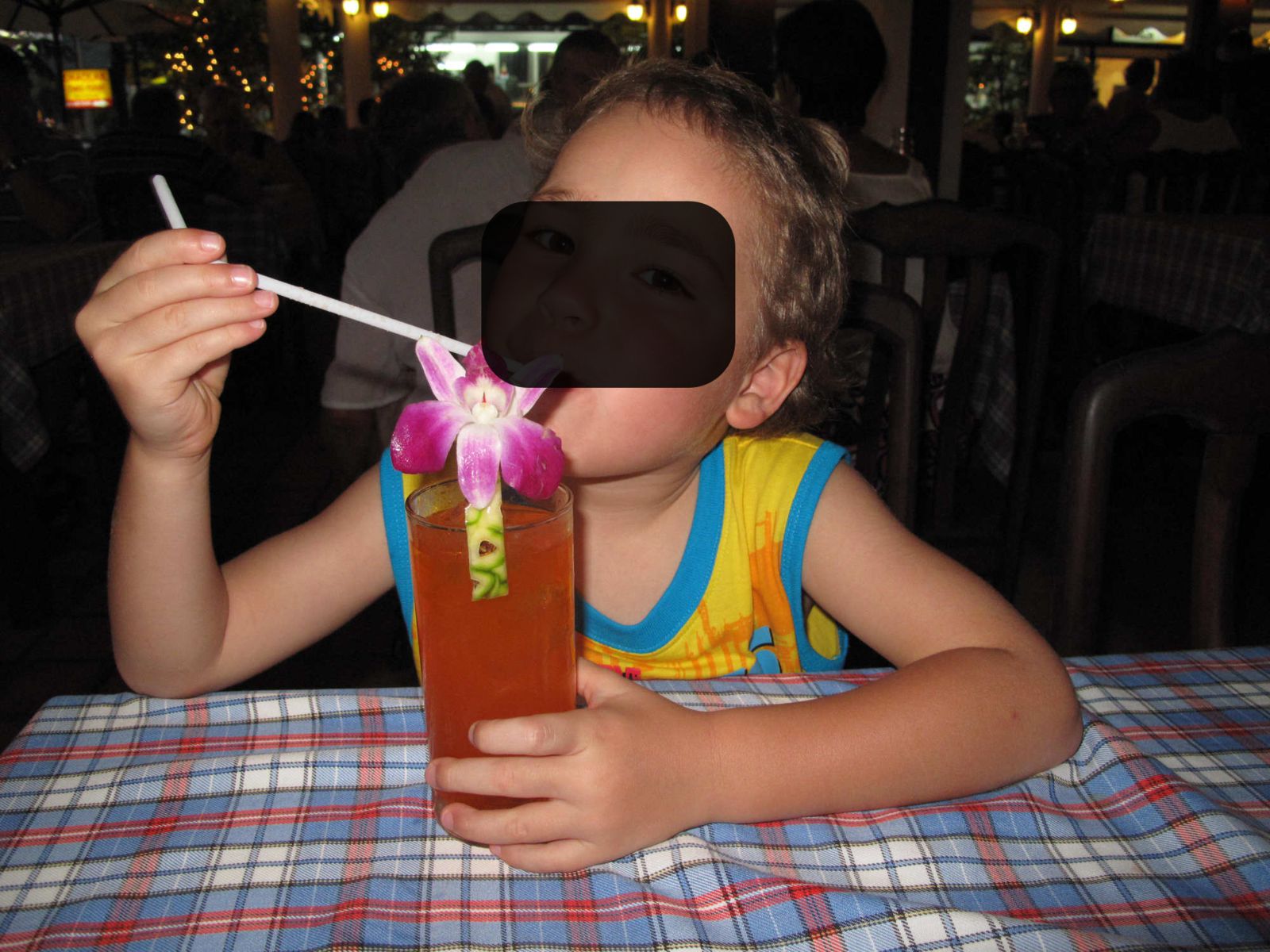 24. Find the best Ice Cream Parlor
Ice cream is a delicious, cooling snack that almost always fits in. There is homemade ice cream in some restaurants, but we found the best ice cream parlors to be in the area around Takua Pa: Ban Yai (picture) or Saraan Icecream.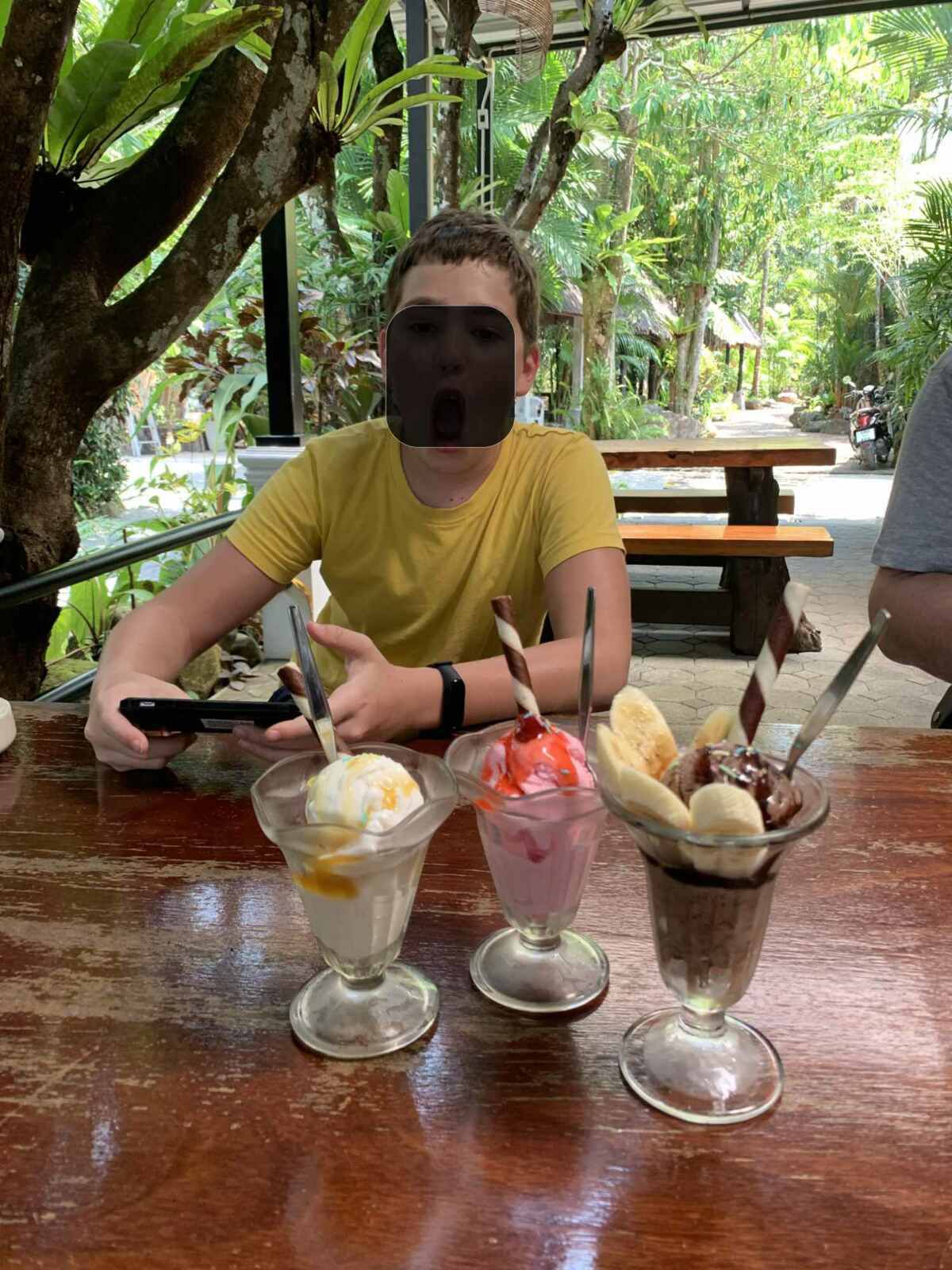 Also worth noting is the stand at Bang Niang Market, which makes the ice cream directly and freshly in front of you on a chilled plate at the customer's request. Rolled ice - please eat quickly!
25. Trekking - experience nature on foot
Hiking isn't just something for Europe - you can experience nature on foot here. For example, on a small excursion in Khao Lak to the Small Sandy Beach. The trail can be done without a guide, but also starts at the headquarters in Khao Lak Lam Ru National Park on top of the hill. You hike down to the small, hidden bay and enjoy the day there. A shortcut starts further up on the main road 4 down (now signposted).
Of course, you can also "just" walk along the beach - relatively easy between Bang Niang and La On, but further up the beach stretches quite a long way between the places. It's best to take a good look at the distances beforehand and take something to drink with you. Restaurants near the beach are mostly found near the hotel. At some places small rivers cross the beach - you will have to wade throgh them.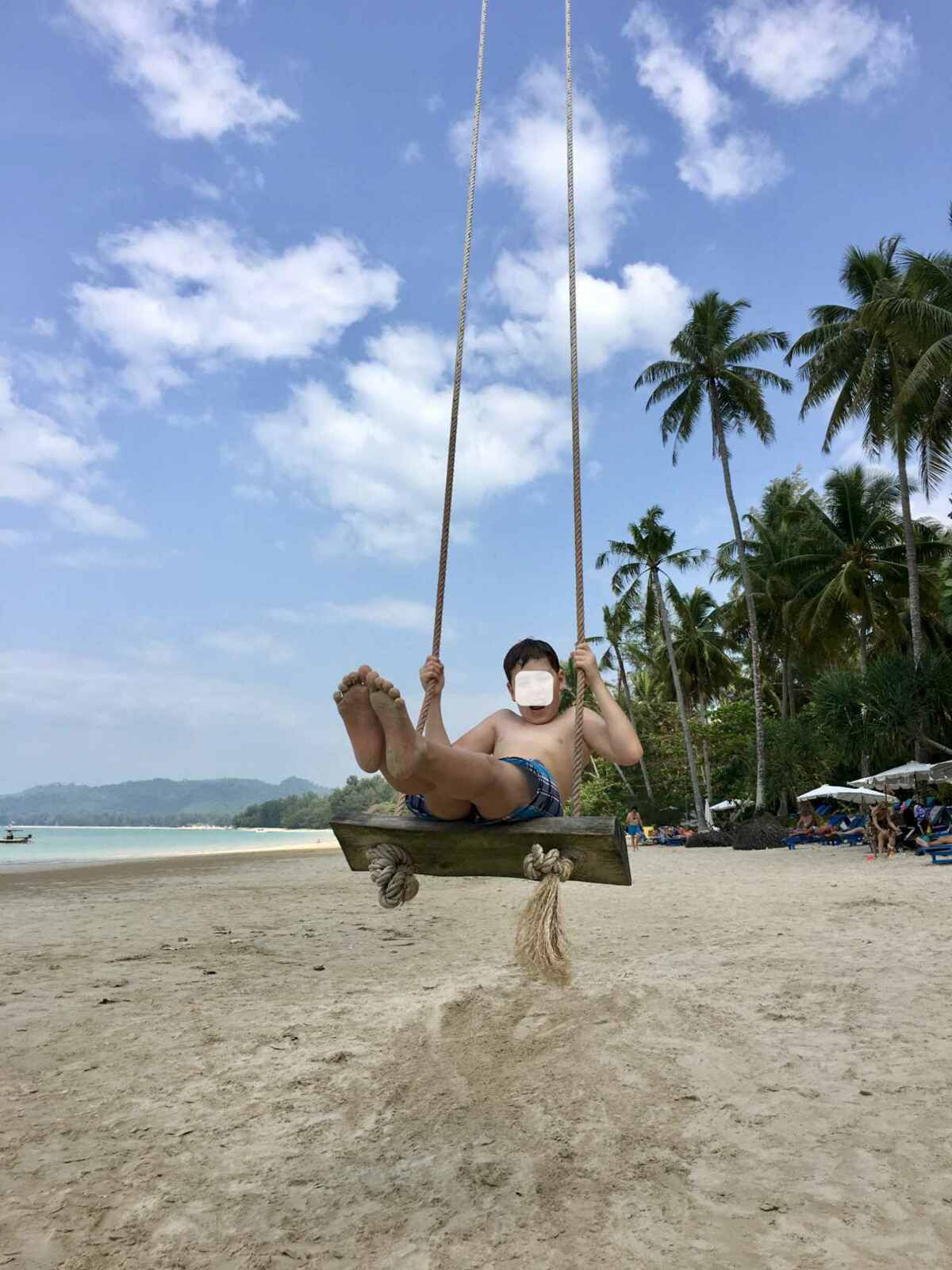 Major hikes or treks in the hilly hinterland or Khao Sok National Park will need a guide. They then also look for the necessary security. There are quite a few snakes and other critters here, so it's important to stay on the trails and wear good walking shoes. Normally, however, the snakes flee, so hardly a problem.
In Khao Sok there are very beautiful and shorter hiking trails to viewpoints and caves. Many start from Cheow Lan Lake.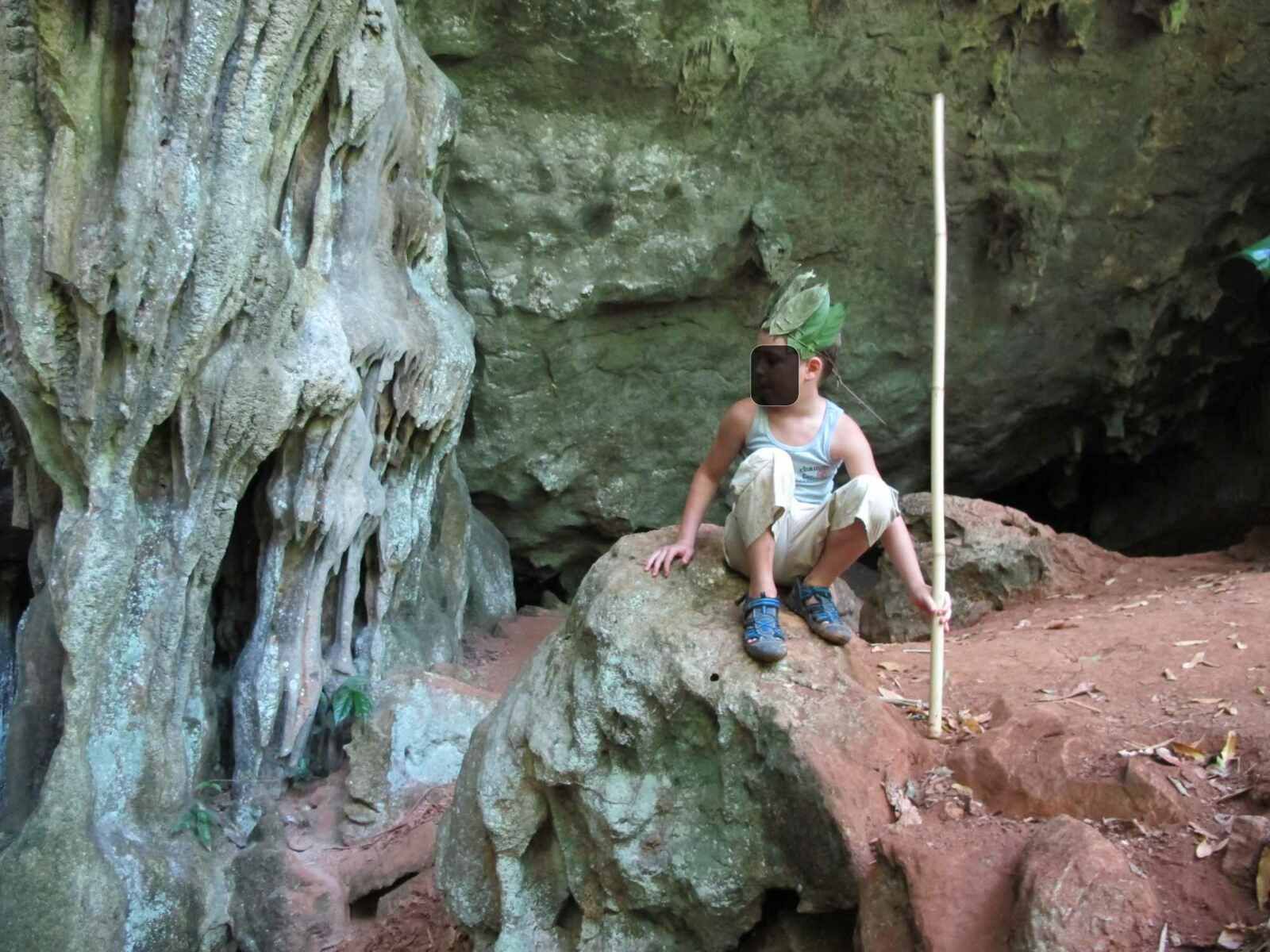 Here is Junior visiting a cave - well equipped with walking stick and jungle crown.
26. Crafting and pinting courses in the hotel
The big hotels offer a lot for children's entertainment, in the kids' club you can also do handicrafts, (like coloring batik T-shirts).
Maybe that is something for not so good weather? Be sure to check out what they offer. For older children they have different entertainment courses.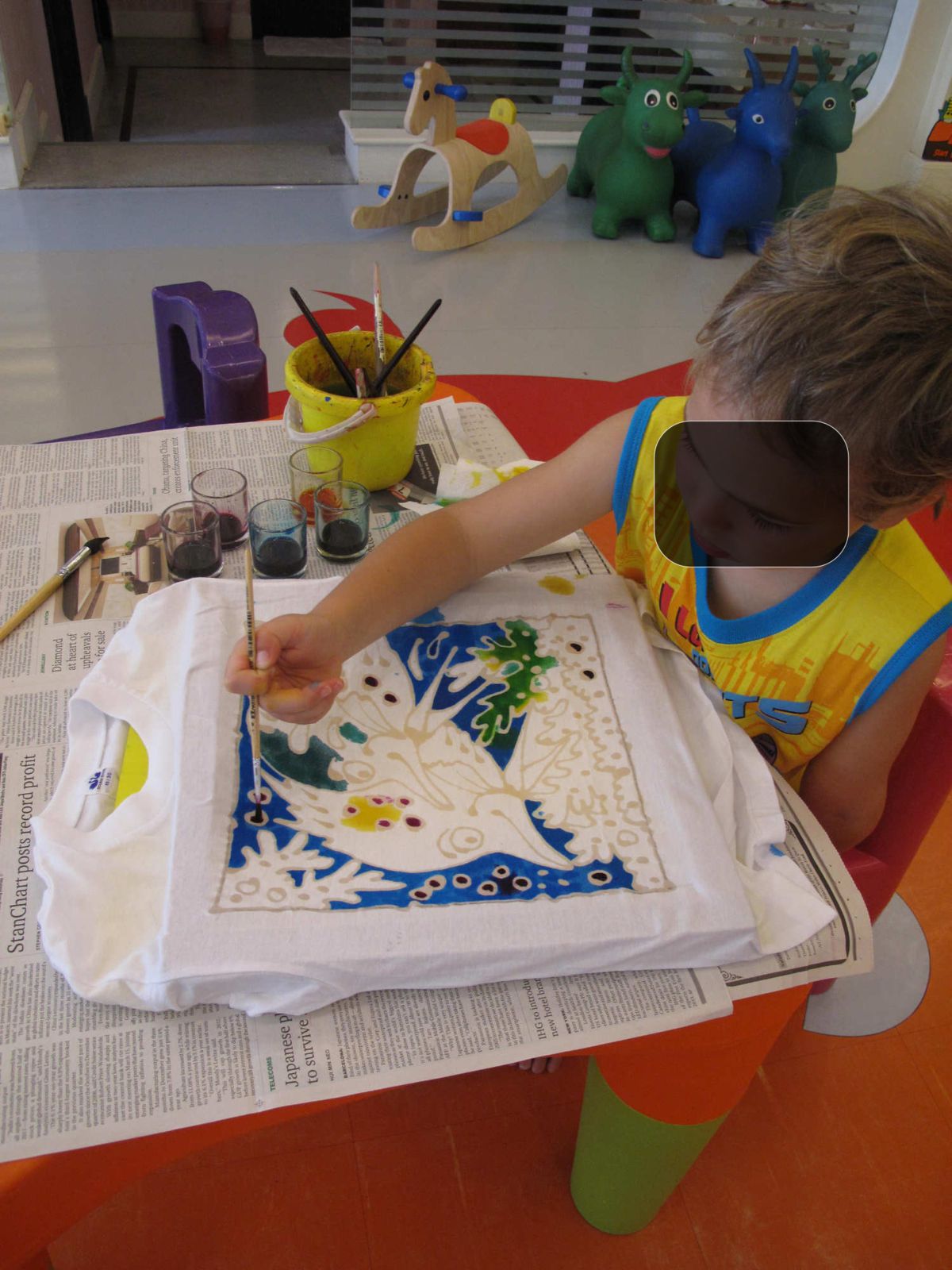 27. Learn something about the local way of living
The people live not only from tourism, but also from agriculture. It looks quite different from ours and it's interesting when you see it. There are guided excursions for this, but if you are open-minded you can get insights in many places.
Rubber trees for example: this is where our rubber comes from: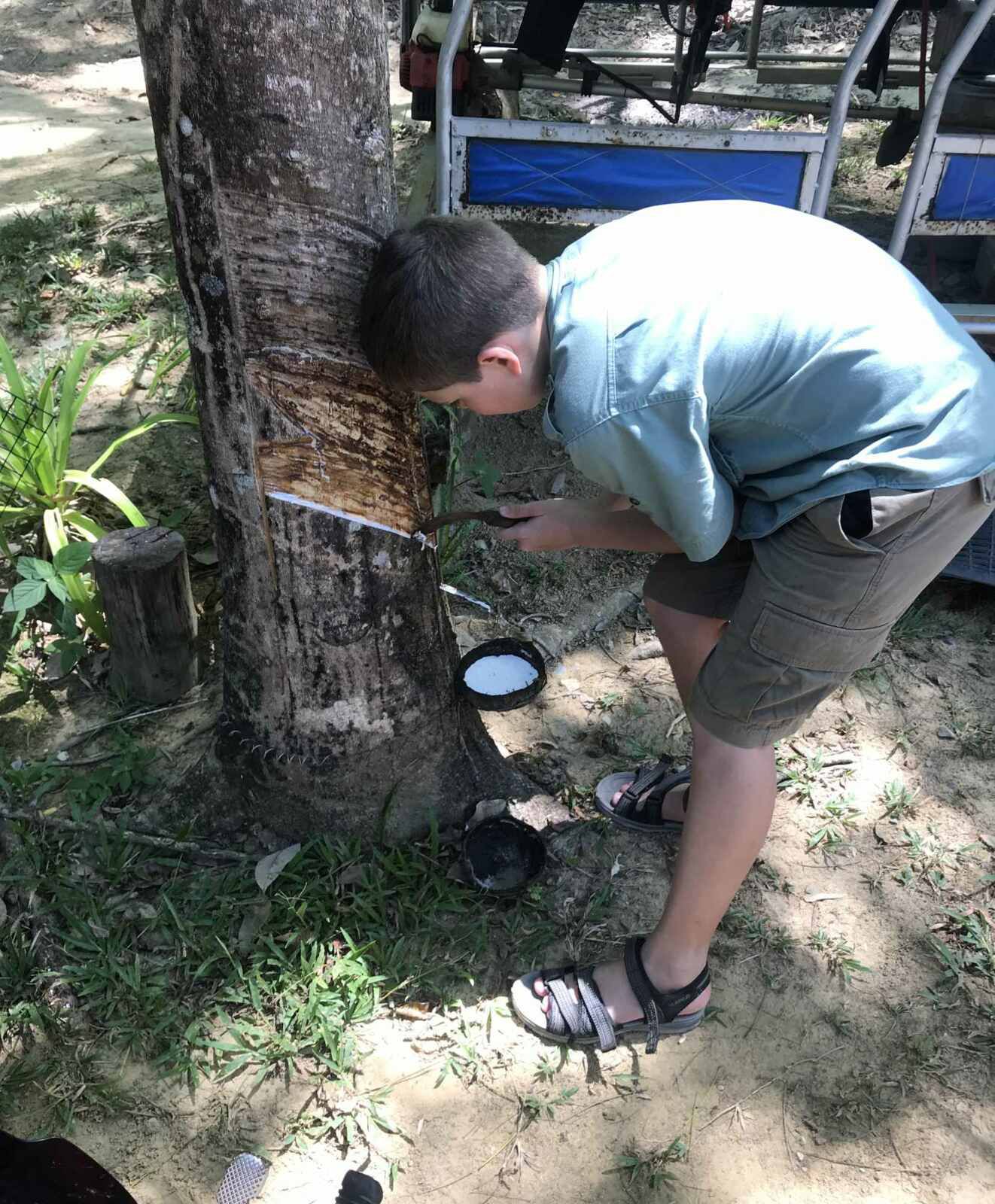 Or cashew nuts: Who would have thought that they grow like this here? They are also processed nearby.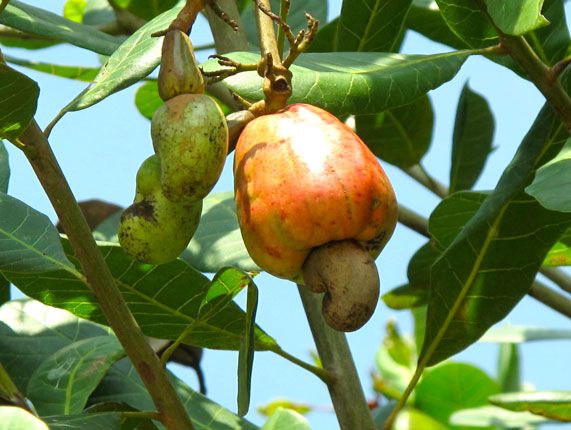 Pineapple plantations can also be found nearby, as well as papaya trees, banana trees, palm trees for palm oil production, mangosteen trees and much more.
You can watch the fishermen at work at the pier: At Thap Lamu Pier or up at Ban Nam Khem.
28. Feeding Fish
You may know the fish that are used in some spas / cosmetic institutes as callus removers? Where you put your feet in the water and the little fish then remove the superfluous skin? The fish are found (of all sizes) in many watercourses around Khao Lak.
In some places they offer fish food for them that you can buy, so they are often big and fat - like the ones here under the Sri Phang Nga waterfall in the picture. Junior isn't afraid of contact, even if they come up with a peck afterwards.
Other places with fish: The Fish Cave Temple on the road between Khao Sok and Cheow Lan Lake.
The closest place to Khao Lak would be the Sai Rung Waterfall.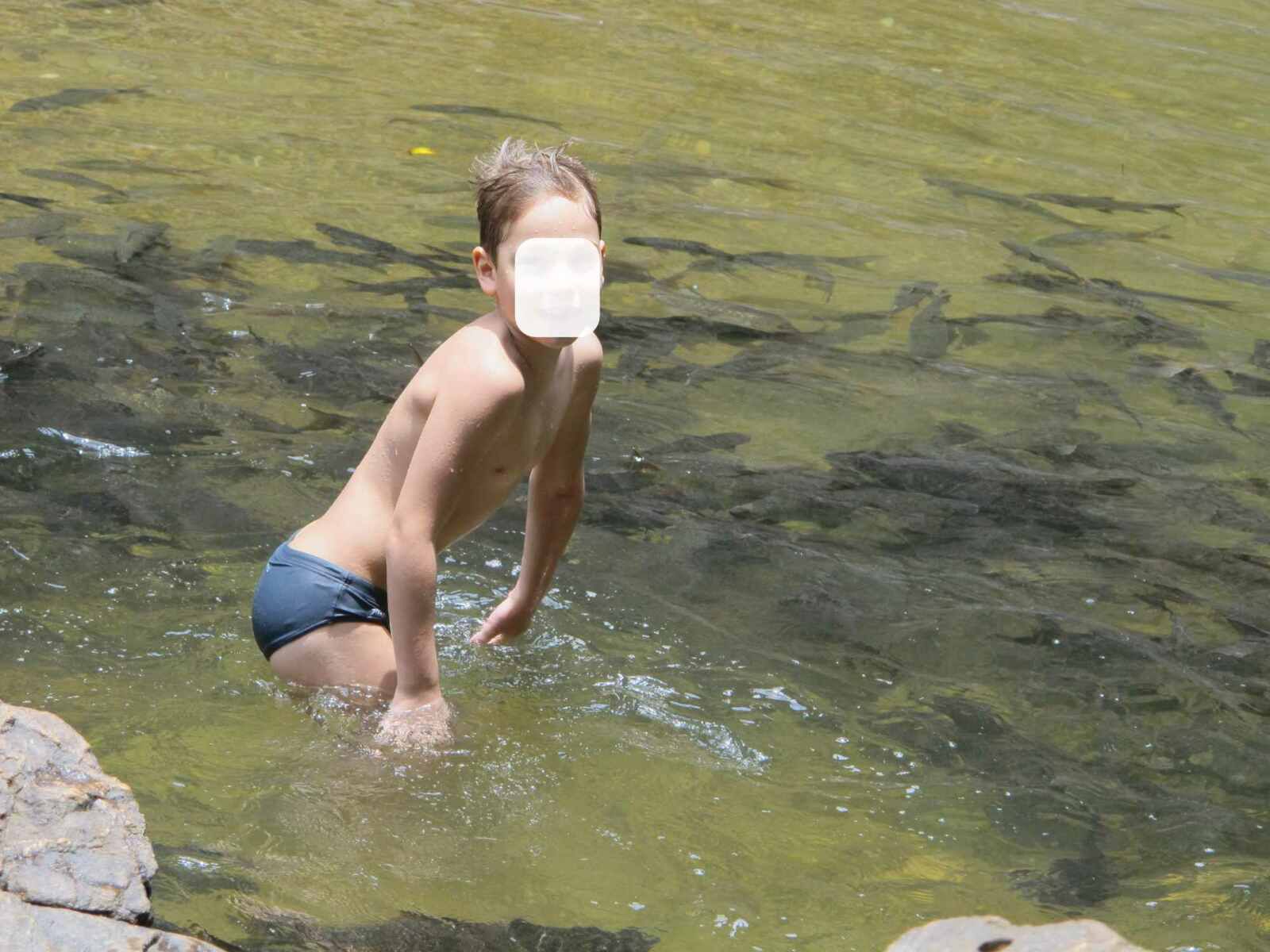 29. Spend the night differently
Khao Lak offers the classic hotels and bungalows, with trips to the surrounding area you can also try something more special: Stay the night ...
In the tree house
in Khao Sok National Park (on an overnight trip)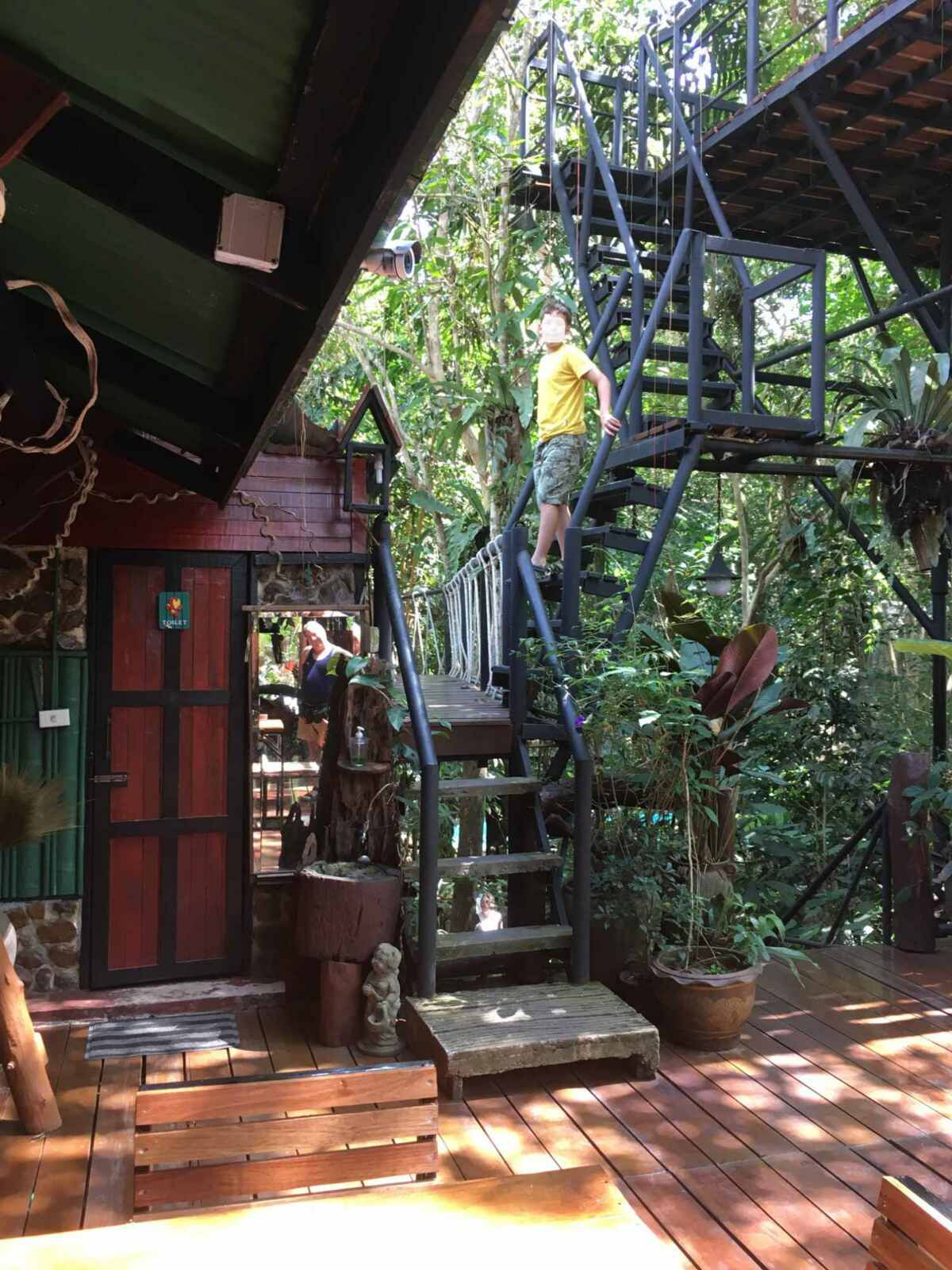 In a floating bungalow
On Cheow Lan Lake (on an overnight trip)
They are available in a wide variety of price ranges and corresponding luxury. In the picture the lowest category: mini wooden huts with mattresses, no ventilation except for the holes in the walls. Then there are larger huts with fans or air conditioning. Or there are fixed tents with a fan and a toilet/shower behind the tent.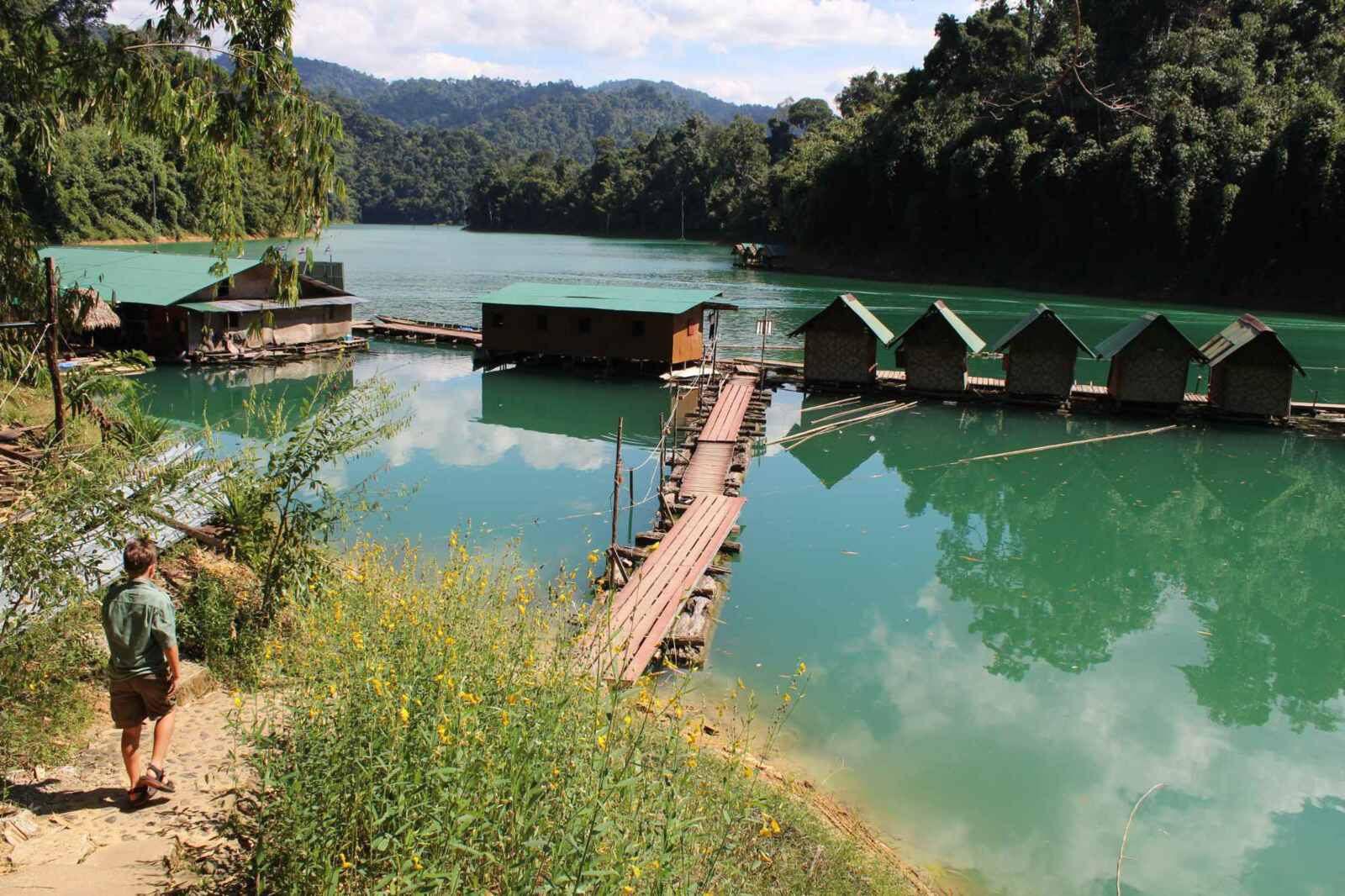 In a tent with a view
for example at the Samet Nangshe viewpoint or next to it at the Toh Li Viewpoint or in Khao Sok.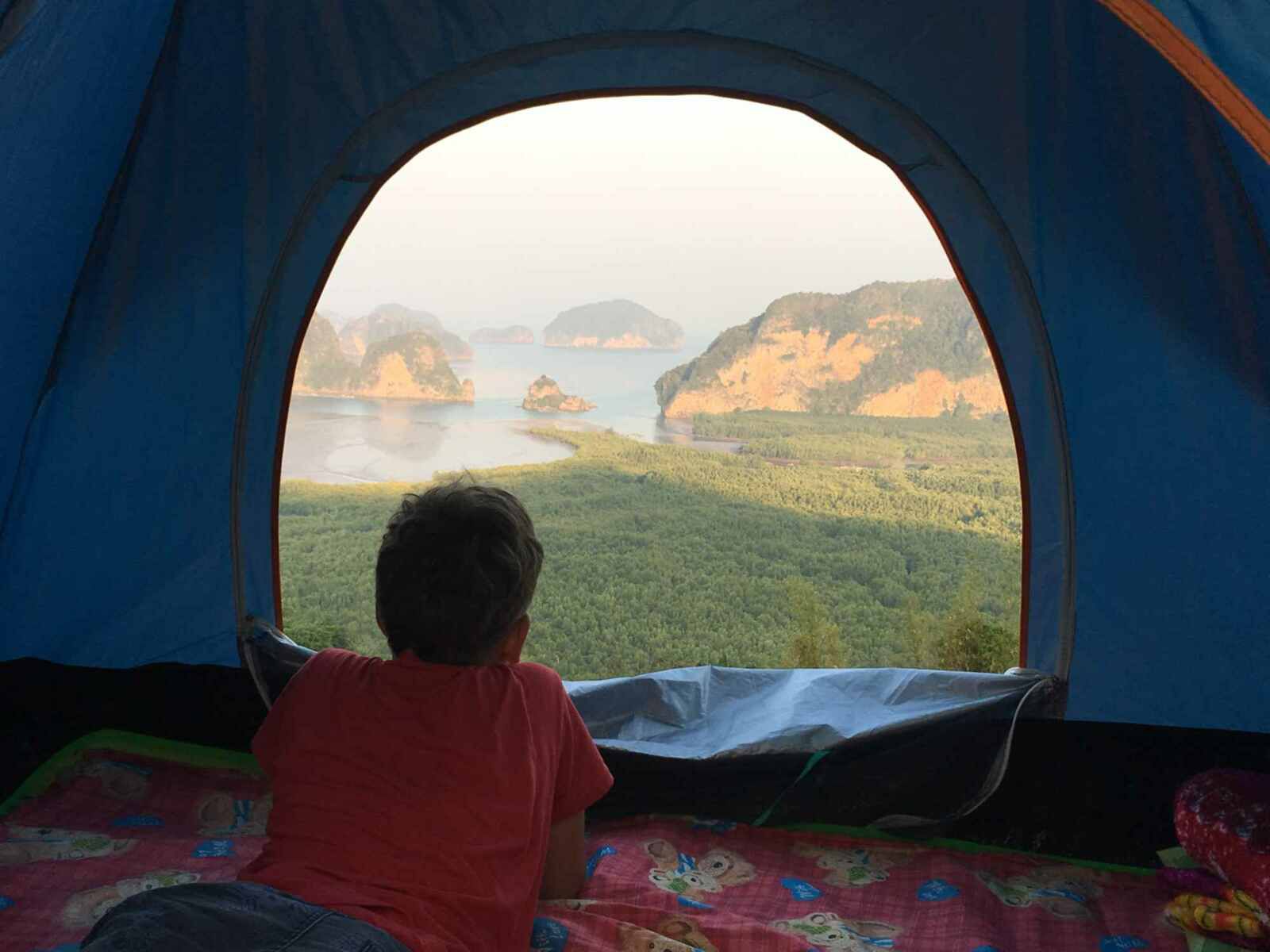 30. And more?
All of the excursions described here can be found (with detailed descriptions) in the travel guide Discovering Khao Lak Compact - which is available in bookstores or on Amazon.
If you want to have your children optimally prepared for Thailand or if you need some non-electronic entertainment for the trip, I recommend our travel companion book: Thailand und Du. Hours of fun and entertainment - for waiting times, hotel rooms or in the rainy season. Plus: many of the images in it are from around Khao Lak!
The book is available (in german only) on Amazon or in bookstores.